Salon del Empresario Award, Mexico 2005.
On 2005 Mr. Carlos Slim Helu was honored with the Galardon del Salon del Empresario award in Mexico City, created in 1993 by Impulsa and Grupo Editoral Expansion to honor entrepreneurial who have supported the business development of Mexico and its community.
The award-winner of the Salon del Empresario is selected by the Conseil of Impulsa, a non-profit organization which is trying to motivate and educate youngsters to appraise the market economics system with a social liability.
One of the objectives of the Salon del Empresario award is that the winners could be used as a model and evidence for youngsters in Mexico who are getting prepared to be included in the world of business.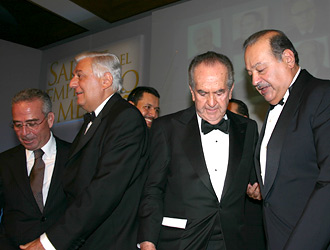 Official Site. Copyright © 2015.