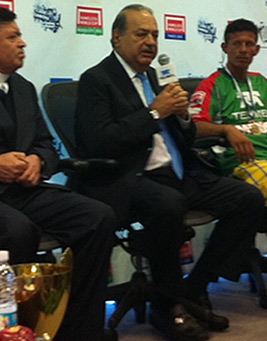 Mr. Carlos Slim congratulated both winners and sorted-out players of "De la calle a la cancha con TELMEX" soccer contest.
Mexico City, July 21, 2011
Good afternoon, I am pleased to be accompanied, above all, by His Eminence, Cardinal Norberto Rivera, and so many friends like José Sulaimán, Miguel, Laura, the champions, Professor Mauricio, whom I congratulate because of his exemplary work: don't give up, professor, and keep us up, you should go beyond with these boys.
As you use to say, we should trust in young people and work with them to have a better country, entrust a better country to our children, and better children to our own country as well. Activities like these stand for a good way to form better children for our country.
I am very pleased in congratulating you, champions of that contest, both boys and girls, out of fifteen thousand competitors.
I also congratulate the sorted-out players; they are going to represent us in Paris, where we expect their best performance. Being sorted-out is a responsibility, a commitment and an honor. I am sure that you will yield the best of yourself, as you did in that contest. You have shown assurance and aplomb, showing that we Mexicans can do anything we undertake in any place and against any rival, as you have already demonstrated.
Thereafter that triumph and the special moment you are enjoying, Paris is expecting you after going to Rio de Janeiro last year. Being in Paris is an extraordinary experience; you will have the chance of knowing that beautiful city, its magnificent museums and many incredible places.
But keep in mind that this is just a single moment, just a step. What we want from you is that after the French championship, whatever its result and taking you effort for granted, you approach to a better life for both you and your families and friends, a life full of success, like the one you are already enjoying. True success is not winning a championship; the real success will be the life you embrace in the coming years. You should keep close to your professor and us.
Perhaps you have already created friendship with your own rivals, so you should work together with them. It is important to continue working with them, professor. I wish you the best success.
We are considering to granting you scholarships, boys. If you decide to study, we could provide you more resources to dedicate yourself full time to school, free from parallel job.
You have demonstrated high capacity in sports, big inner force for competition and triumph. I am sure that you will achieve anything you pursue in life, but don't give up and acquire force from future adversity to keep studying, living and working for yourselves, your friends, your families and your country.
Thanks.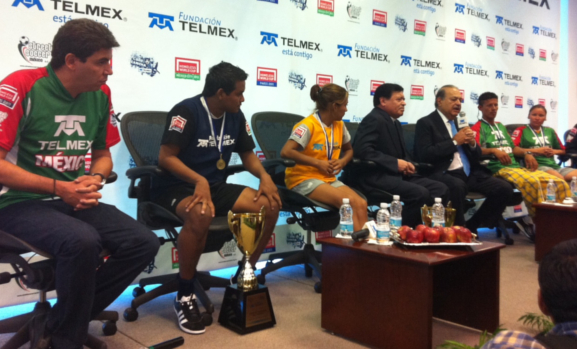 Official Site. Copyright © 2014