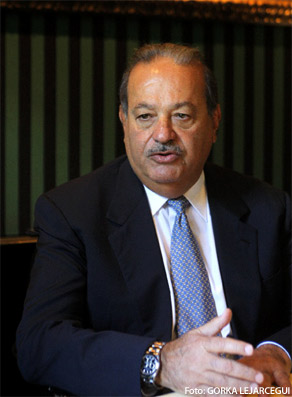 INTERVIEW: Foreground CARLOS SLIM Founder of Grupo Carso and second richest man in the world.
"All crises are opportunities"
MIGUEL JIMENEZ / AMANDA MARS June 8, 2008
Carlos Slim Helú (Mexico City, 1940) is passionately fond of his family, business and baseball. He says that Alex Rodriguez, one of the Yankees' stars, was the youngest player to reach 500 homeruns, and that the boy can beat the all-time record. All the great ones, Ted Williams, Babe Ruth… Slim can refer by memory the historical statistics of the American king of sports and keeps a little piece of paper with all the records. His eyes also sparkle when he tells that a Jamaican just set the 100-meter record in 9.72 seconds; or remembers that Tarzan, Johnny Weissmuller, was the first one to swim 100 meters in less than a minute, more than 80 years ago.
"Competition has made us (Telefonica and Telmex) better"
"Felipe Gonzalez and I do not talk about business; we talk about the new society"
"It would be a mistake to open Mexico's oil richness to other enterprises"
"It is not important NOT to make mistakes, but the mistakes to be small"
"I am concerned for the rampant speculation in commodities"
The iPhone is a great product, very attractive for part of the market"
Because the only records he is not interested in, he says, are multimillionaires'. A telecommunications empire (Telmex), infrastructures, oil platforms (Carso) and finance (Inbursa), among others, antagonize with him. He has been launched to the second position among the richest man in the globe, between two Americans, with a fortune valued in $60 billion dollars, according to Forbes. A few days ago he took part in the annual conference of the Círculo de Economía (Economy Circle) in Barcelona and had lunch in Madrid with the Instituto de la Empresa Familiar (IEF, Family Enterprise Institute). Then he escaped to see Goya's exhibition in the El Prado Museum.
Question. Warren Buffett used to say that great companies are built by people who love their business and earn money in the way, but that money does not impulse them as much as the desire for success. Do you share that point of view?
Answer. I think that happens in any vocation. It happens to the artist, who is interested in creating; it happens to the sportsman, who is interested in good results or to the businessman, the doctor, the lawyer, the politician, the religious… It is something that goes with human condition.
Q. Have you always been like this, or when you started money was more important as a motivation?
A. No, of course not, on the contrary. Look, my parents' house is better than mine, much better. It is bigger, more spacious, and more valuable. When you go after the material value, you are on the wrong way.
Q. Why don't you have a bigger house?
A. Because I have been living in my house for 36 years now, I never moved and I am going to stay there until I 'kick the bucket'. It is warmer for meeting the children.
Q. What memories do you have of your parents? What did they teach you?
A. Everything: values, role models, knowledge, wisdom, common sense… The importance of the family is total.
Q. Did your father also teach you to do business?
A. Yes, in some way, though he died when I was still very young.
Q. You started your first investments when you were 12.
A. Yes, even earlier.
Q. What investments?
A. Well, I do not remember clearly, but from a savings bonus to a checking account, which I later realized was not worth it because it did not make any profit. I also bought some stock when I was very young. Thirty actions, I remember, from the Banco Nacional de México (Mexico's National Bank).
Q. Was it a good investment?
A. Sure, sure. I kept reinvesting in them for a while.
Q. What is the worst investment you remember?
A. I don't have a special recollection of anyone. I have made bad investments in my life, of course. It is not important NOT to make mistakes, but the mistakes to be small. The problem is when you make big mistakes, and several of them, but if they are small… If you don't make mistakes it is because you don't make decisions.
Q. What would you say is the secret of your success?
A. I think that the family I was born and raised in, my marriage, my children, my friends… But I think that success is not economic. To think of success as a material issue is not right.
Q. In the Círculo de Economía, you said that you consider companies as modern armies that conquer markets. Do you feel like a great General?
A. No, it was a metaphor. Probably, the bellicose instincts of human beings are now displayed on other fields like sports, business or professional work. You compete with other media and even with colleagues of your own media, in sports, you are in competition with other teams and in business you compete with other companies. Competition always makes you better. To make things better, you need to be in competition. Even in politics, democracy is a political competition.
Q. Does it also motivate you to compete in rankings as those where you appear as the second richest person in the world, behind Warren Buffett and before Bill Gates?
A. No, that is not competition.
Q. So how does it feel when you appear in those classifications?
A. Nothing
Q. Doesn't it provoke you any feelings? As pride, for example?
A. Nothing, neither feelings nor emotions. Pride is individual, internal; it is not about recognition or applause from others. It is the internal feeling you have for the things you do.
Q. Which of your companies you like the most?
A. Which one of your children you love the most? We like everyone, and when one has problems, we devote more to it. There are many things that satisfy us; for example, the Foundation. I am not even as honorary in the Administration Boards.
Q. How does the present financial crisis affect your enterprises?
A. Those crises will affect everyone. We have historically tried to have financially healthy enterprises, so the crises do not lead us to make painful personnel and structure adjustments. When you have the adequate, lean operation, you are prepared. But the expectations are not really encouraging and there will be some problems to face, not only for enterprises, but also for the society in general.
Q. You have made most part of your fortune by taking the risk of investing in moments of crisis.
A. I think that is when less risk lays.
Q. Do you consider this crisis also as an opportunity?
A. All crises are opportunities. Unfortunately, this crisis is delicate, because it is the financial system what is in trouble, and this will impact real economy, over the society.
Q. Which sectors would you run away from?
A. Run away? As much as running away… What concerns me, not personally, but globally, is the rampant speculation in commodities that has created a speculative bubble not only with regard to oil, but also food. That speculation should be avoided. Just as there have been granted credits with a very little guarantee, the subprime, there is a rampant speculation in commodities and oil with very little guarantee. It should be required a greater guarantee to operate and avoid the consequences of the speculative bubble that is affecting the world so much.

Official Site. Copyright © 2014