Carlos Slim attended the ceremony in which the Federal District's Legislative Assembly (ALDF)   awarded journalist Jacobo Zabludovsky with the  Citizen's Merit Medal 2009 in recognition of his professional career and his personal contribution to life in Mexico City.
In his address to the ALDF, Mr. Zabludovsky expressed his gratitude for the award and invited deputies to create a local council to deal with the city center, given its importance to the city as a whole.
In an interview following the ceremony, Mr. Slim stated that the worst moments in the Mexican economy are behind, since the drop of the gross national product (GNP) has come to a halt.  This will bring forth a more stable environment, demanding more efforts in job creation.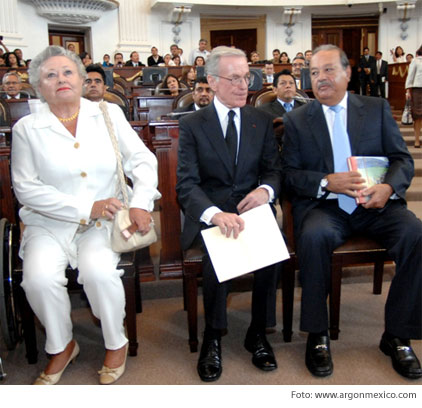 Sara Nerubay de Zabludovsky, Don Jacobo and Carlos Slim Helú.


Official Site. Copyright © 2014