Mexican Mogul's Giving Helps Revitalize Capital City's Historic Downtown Neighborhood
October 4, 2012.
By Caroline Preston
Mexico City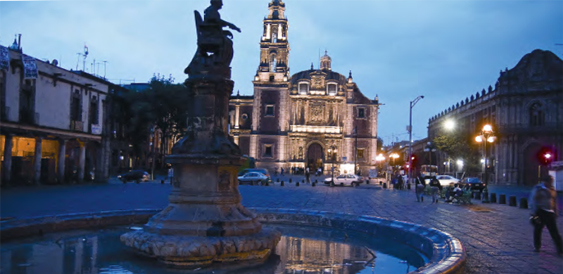 Adrián Pandal weaves among pedestrians on a busy downtown street in this city's historic center one recent Tuesday, stopping occasionally to point out landmarks like a new restaurant within a refurbished 18th-century palace, a church with a new sound system, and apartments rising from once-deserted buildings.
Mr. Pandal runs a preservation group financed by Carlos Slim Helú, the Mexican billionaire. His group's efforts to revitalize the neighborhood, which was largely abandoned after a 1985 earthquake, exemplifies Mr. Slim's approach to solving social problems. Skeptical of whether charities can make a big difference, Mr. Slim says he prefers to find ways to produce positive results while also turning a profit.
A previous attempt to restore Mexico City's downtown failed, says Mr. Pandal, because it relied on new museums to attract business and foot traffic. When the city's mayor asked Mr. Slim in 2000 to help revitalize the area, he instead focused on opening stores like Sanborns, the restaurant and retail chain he owns. He also bought apartment buildings and fixed them up for his employees and for local artists.
"You have to make it living," says Mr. Slim, in describing the revitalization effort.


Focus on Profits
His preservation group also started counseling and health programs for neighborhood residents—but paid for them, to the tune of up to $5-million a year, not with grants but with revenue from a parking lot he purchased.
Mr. Slim, who is now working on a similar urban revitalization effort in Acapulco, says that there is "so much" in the way of programs to solve social problems that can simultaneously "be profitable." Such programs could include not just infrastructure projects, he says, but also bank loans for the poor.
Finding ways for programs to sustain themselves also means that his money isn't wasted on fundraising costs, for which Mr. Slim expresses distaste. "It's a business," he says, of the fundraising profession.
Official Site. Copyright © 2015