Mr. Carlos Slim inaugurated the Inbursa's Aquarium, the largest in Latin America. In the ribbon-cutting ceremony, he was accompanied by the Mayor of Mexico City, Dr. Miguel Ángel Mancera and by Inbursa's Aquarium President, Mr. Alejandro Nasta.
Inbursa's Aquarium was created with the mission to inspire passion for marine life and to contribute to protect the marine world.
Plaza Carso, Mexico City, May 30, 2014.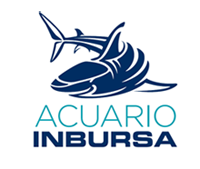 Inbursa's Aquarium was inaugurated with over 230 species and 5,000 marine samples.
Inbursa's Aquarium showcases sharks, seahorses, turtles, piranhas, crocodiles, jellyfish and barracudas, among many other species.

Inbursa's Aquarium is an exhibition center as well as a conservation center for endangered species
Visit Inbursa's Aquarium and plunge into the fun.

Located in Plaza Carso, a few steps from the Soumaya Museum, the Jumex Museum and the Telcel Theater, Inbursa's Aquarium will open its doors on June 11. Visitors will be able to live an entertaining and educational experience ranging from the bottom of the ocean to exotic mangroves. Over 5 thousand samples of more than 230 species are featured, including sharks, seahorses, turtles, crocodiles, piranhas, jellyfish, corals, and barracudas, among many others. They are showcased in 48 different exhibition settings covering a surface of 3,500 square meters, distributed in a 4 level underground structure.
Experience a completely different adventure in each one of Inbursa's Aquarium levels

The aquarium was conceived with the concept of edutainment (education and entertainment) allowing visitors to discover its world-class facilities organized with a high degree of thematic arrangements. They will be able to explore the marvels of the marine world, including the possibility to touch and feed different species such as starfish and rays.

Furthermore, at one of its floor levels Inbursa's Aquarium keeps all the life support equipment, water tanks and filters, in order to reutilize 22 million liters of seawater brought from Veracruz. Through this filtration process, the aquarium emulates life conditions in the sea, thus conserving the species in their natural habitats.

Construction of the aquarium was inspired as a response to the severe decay of marine ecosystems and the need to raise consciousness in the population about the importance of preserving the marine world. Inbursa's Aquarium is not only an exhibition venue but a conservation center too.

Our mission is to inspire passion for marine life and our vision is to create marine world protectors. In order to do so, Inbursa's Aquarium has developed a series of educational initiatives that inform and persuade visitors about the environmental problems affecting the marine world. The Aquarium has a solid program to preserve endangered marine species, with measures to manage and allow reproduction in captivity of corals, seahorses and jellyfish among others.

Moreover, Inbursa's Aquarium contains a Conservation Center (CECONSE) where a team of experts is responsible of analyzing water quality, prepare specific diets for each kind of species, oversee quarantine periods and supervise reproduction cycles.

Inbursa's Aquarium will focus its efforts in conserving coral reefs, as 60% of them are prone to extinction over the next 30 years if conditions threatening their survival are not reverted.

In order to strengthen its mission, Inbursa's Aquarium has established a strategic partnership with the Veracruz Aquarium, the Institute of Technology of Boca del Río (ITMAR) and the Mazatlan Aquarium. Together they will develop conservation programs that will allow Inbursa's Aquarium to train a new generation of professional veterinary doctors and biologists, through internships and academic exchanges. Today, Inbursa's Aquarium is about to finalize a cooperation agreement with WWF (World Wildlife Fund), the Faculty of Veterinary Medicine and Animal Husbandry of the National Autonomous University of Mexico, and the Division of Biological and Health Sciences of the Metropolitan Autonomous University, Campus Xochimilco.

With an investment of over 250 million pesos, the company Blau Life S.A. provided a team of experts from different fields and directed the great effort to materialize this project. Architects from Free Consultancy were in charge of the architectonic design. Blau Life S.A created the interior decorations and exhibits.

The opening ceremony of Inbursa's Aquarium was presided by Dr. Miguel Ángel Mancera Espinosa, Mayor of Mexico City, Mr. Carlos Slim Helú, Chairman of the Carlos Slim Foundation and Mr. Alejandro Nasta Icaza, President of Inbursa's Aquarium. Together they cut the ribbon and unveiled the commemorative plate marking the occasion.

You should not miss this great underwater experience in Mexico City. Plunge into the fun at Inbursa's Aquarium.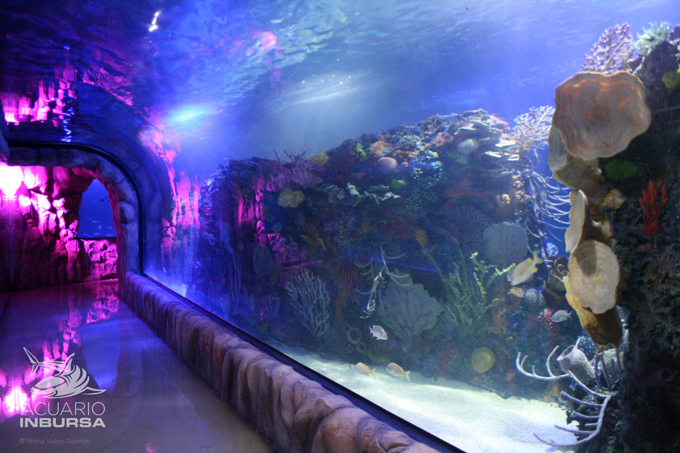 Official Site. Copyright © 2015