Mr. Enrique Peña Nieto, Governor of Estado de Mexico and Mr. Carlos Slim Helu inaugurated the Sports Center Ciudad Jardin TELMEX Bicentenario, an ambitious project of ecological rescue that was built on the surface of an old city dump known as Bordo de Xochiaca, in Nezahualcoyotl.
May 21st, 2009. Mexico City.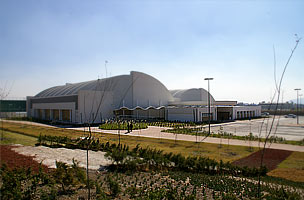 Built with an investment of 400 million pesos, on a surface that was used as a city dump for more than 30 years, the Sports Center Ciudad Jardin TELMEX Bicentenario is part of a huge project of ecological recuperation, as well as an economic, cultural and servicing development urged by Grupo Carso, in which more than 10 thousand temporary employments were created, as well as 5 thousand permanent employments.
During the opening ceremony, Governor Enrique Peña Nieto pointed out that Ciudad Jardin TELMEX Bicentenario is one of the most important ecological recuperation projects in the country that will lead to family unification and will enhance the quality of life of the inhabitants of Nezahualcoyotl and of the east area of Mexico, and recognized Eng. Carlos Slim as a visionary businessman of the country.
Talking about Eng. Carlos Slim Helu, he expressed that this ecological salvation and economical development project is a model for other countries, making some states to ask for information about the way it was created to start building something similar in their own countries. To transform a city dump into a social center.
Sports Center Ciudad Jardin TELMEX Bicentenario
This Sports Center is more than 600 thousand square meters, about 12 times Mexico City's Centerville, known as El Zocalo, and it is expected that during the weekends will attend more than 6 thousand visitors.
These extended facilities will provide the inhabitants of this area of the city an option to practice sports at no cost, with its 25 soccer fields, four tennis courts, four basketball courts, four volleyball courts, two football fields and two baseball fields. In addition, there's a gym, fronton, aerobics' room, cycle track, a stadium for more than 3, 600 people, four artificial lagoons that are expected to attract 5 million liters of water per year, heliport, parking lot, playground, walking tracks and green areas for the family.

Ciudad Jardin TELMEX Bicentenario: A model for the World
Ciudad Jardin TELMEX Bicentenario was built over an area of 12 million tons of garbage that was generating extreme pollution; an amazing ecological effort.

The garbage was compacted and covered with several layers of soil, eliminating the noxious animals, diminishing dirt and bacteria suspended in the air, as well as eliminating pollution of the phreatic mantle generated by rotted organic waste.

In order to put up this area, more than one million square meters were restructured throughout two recovery systems and a special process to treat toxic and corrosive liquids, and another biogas system that emitted 93 tons of CO2 per year. Today it will generate 3 megawatts of energy.

Ciudad Jardin TELMEX Bicentenario has health services, a university, culture areas, stores, entertaining areas, and a huge sports and recreating area for all the family, this renovation is a positive example for the entire world, in which the best technicians, engineers, and environmentalists were invited to create the project, using the best technology to finish the center in two years.

The center will be self supported because it will recuperate more than 5 million liters of water per year throughout its four artificial lagoons, and it will offer 5 thousand permanent jobs.

More than 80% of the workers in this center are people who live in Nezahualcoyotl.

Official Site. Copyright © 2015