Located at Carso Plaza, the new building housing the Soumaya Museum was inaugurated.  The modern facilities will be home to the largest art collection in Mexico and Latin America.
March 1st, 2011. Mexico City.
Mr. Felipe Calderon, President of Mexico and his wife, Mrs. Margarita Zavala, attended the ceremony marking the opening of the new building. Mr. Carlos Slim was accompanied by his daughter Soumaya, Nobel Literature Prize laureate Gabriel García Márquez, recently retired CNN anchorman Larry King, Fernando Romero architect and constructor of the modern building and Alfonso Miranda, the museum's director.
The new museum's facilities are modernly designed and cover a surface of 17 thousand square meters, in six stories unique in shape and kind, intended to house the permanent and temporary exhibitions.  The museum will also provide space for the Carso Center of Mexican Historical Studies, the TELMEX classroom, an auditorium, dedicated rooms for creativity and reflection as well as a library and a restaurant. The museum's façade is covered with hexagonal figures symbolizing family work, as in a beehive.
During the opening ceremony Mr. Slim stated that the "museum created by Fernando Romero is an avant-garde venue and I am very pleased to see that it bears the name of my wife.  Our aim is to offer a cultural venue for people of all ages; a place for them to meet culture and the arts".
Since it first opened its doors to the public more than 16 years ago, the Soumaya Museum has devoted itself to collect, preserve, investigate, promote and exhibit artistic expressions mainly from Europe and Mexico.  Its aim is to make it easier for the Mexican population to come close to art and to a diversity of cultural expressions.


Mr. Carlos Slim's address in the inauguration of the new seat of Soumaya Museum, March 1th, 2011

Good night. Handing over that building and its art collection to the city of Mexico and the whole country is a big proud and pleasure for me and my own family.

We are also proud in being attended by the President of Mexico, Mr. Felipe Calderón and his wife, Mrs. Margarita Zavala de Calderón, Senator Manlio Fabio Beltrones, Secretary of Education, Mr. Alonso Lujambio, our dearest friends Gabriel García Márquez and his wife Mercedes, Mr. Larry King –who is here in to deliver a speech and cut the ribbon, as he asked for condition– foreign ambassadors, all of you friends, thanks for sharing with us.

As Larry has remarked, this museum building was built by Fernando Romero and his team. I think it is a High World-Class Quality Museum, as you will see. Its spaces and exhibiting areas are really impressive, and we are very glad that such a museum be named after my wife.

She and I did create our first museum more than sixteen years ago in Plaza Loreto. That first museum will continue be open. We are glad in opening that new seat with the attendance of Mr. President, his wife and all of you.

In planning that new museum, we thought not only of visitors from Mexico City, rather from all over the country and the rest of the world. It provides specific areas for the young, kids and families, of course. We think it will enhance Mexico's human capital formation opportunities and enlarge visitors' universal culture by enjoying art history, both universal and Mexican.

Entrances are for free and they will remain so. We are taking provisions for enlarging and adapting hourly time according to visitor groups needs. We are going to offer school-group visits, of course, and make broad and sustained promotion.

As for the art collection, a part is European. Our main purpose is to make it available for Mexicans who find difficult to travel abroad. Now they are able to enjoy it and know it.

I friendly welcome you. We are very proud in offering that museum and its art collection to our city and our country as well. I thank you in sharing with us that important day for me and my family.

Thanks.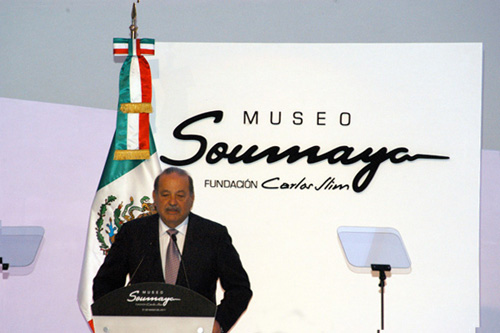 Official Site. Copyright © 2015