The Soumaya Museum opened its doors to the general public in its new building located at Carso Plaza.
March 29, 2011. Mexico City.
From March 29 the new building housing the Soumaya Museum, located at Carso Plaza in East Mexico City, opened its doors to the public. The venue integrates urbanism, ecology, housing, shopping, services, culture and the arts.
During a press conference held on March 28, Mr. Carlos Slim announced the opening of the new facilities, stating that "on behalf of the members of my family and myself I want to share with you our joy of offering this venue; this great museum project and the possibility to share the collections belonging to the Carlos Slim Foundation". He also underlined that the other Soumaya Museum, located at Loreto Plaza and inaugurated en 1994, will remain open.
When announcing the opening of the museum to the general public, Mr. Slim was accompanied by museographer Alejandro Masso, his daughter Soumaya, architect and builder Fernando Romero and Alfonso Miranda, the museum's director.
The new museum's facilities are modernly designed and will house over 66 thousand objects that comprise the Carlos Slim Foundation's art collection.  The new building is a urban reconversion project that appears at a moment when "the industrial sector is abandoning cities… places formerly occupied by factories are now being converted for new use… in this case we will offer a wide range of services in an area where there used to be factories of automotive tires, baking powder and bread, among others.  Industrial societies are becoming service societies", Mr. Slim explained.
The new venue for the Soumaya museum covers a surface of 17 thousand square meters.  Of these, 7 thousand 517 square meters distributed in six stories unique in shape and kind, will be devoted to house coins from the Spanish colonial period, as well as the Republican and 2nd Mexican Empire periods. Visitors will also find artwork depicting Mexican 19th Century portraits and applied arts; ancient European and New-hispanic masters; 19th century Mexican and European landscapes; early avant-garde impressionism, Western Meso-American cultures, Mexican 20th century art; the Rodin era and European sculpture from the 19th and 20th centuries.
The Carso Center of Historical Studies will also be located in the building, along with an auditorium, a TELMEX Class room, a library and other services.
Entrance to the new museum, located in the Eastern Mexico City neighborhood of Ampliacion Granada, will be free. The museum will open from 10.30 am to 6.30 pm daily.  The Soumaya museum at Carso Plaza will strengthen the city's cultural offer and, along with its other building located at Loreto Plaza, it will continue striving for culture as it has done for more than sixteen years.
Mr. Carlos Slim address in the opening of new Soumaya Museum in Plaza Carso, March 29, 2011

Good afternoon. By the name of my family and mine own, I want to tell you that we are very pleased in offering you that museum and sharing our art collection.

Carlos Slim Foundation is having its 25th anniversary, and opening that museum in Polanco district is the best way to commemorate it.

As we have said, old Soumaya Museum in Plaza Loreto will continue be open. As you know, Soumaya Museum in Plaza Loreto was inaugurated in 1994, so it is already having its 17th anniversary.

The new Soumaya Museum is the east-most and northern museum of Mexico City. As you can see, it is a very ambitious, technologically-advanced and structurally-complex building project demanding high abilities and knowledge. We are very proud of that made-by-Mexicans architectural work. The project was made by architect Fernando Romero, here at my left hand, and his team. Calculus was made by Colinas de Buen. The structure was made by Suecomex, a branch of Grupo Carso, and the building was built by another one branch of Grupo Carso. We are happy in opening that space and sharing our art collection with the public.

The Soumaya Museum is the main building and the cultural front of a big plaza. It is a big investment too, being carried out during the recession years of 2008 and 2009, and finished in 2010. It created many direct high-qualified jobs and it engaged many material, structure and finish-work providers.

In inaugurating that work we are concluding the first step of the plaza, about 60% of the whole construction. Other works remain to be built: Jumex Museum which will complete the cultural area, plus entertainment, hotel and apartment buildings and facilities.

The whole project is a part of Mexico City urban transformation. Urban transformation means that industries have had been taken out of cities, while cities are becoming places for service societies. Former industrial buildings are being transformed into other uses for offering services, or mixed uses, like the present one.

We did initiate this urban transformation 17 years ago by transforming the old Loreto industrial plant into Plaza Loreto, a commercial and entertainment complex. Plaza Inbursa Cuicuilco Peña Pobre is a similar one. Unlike these compounds, this new one did not use the old buildings because of lack of architectural, aesthetic or historical value. On this ground there was a tire plant, a General Motors plant, a bakery, a yeast plant and others. All of them are being transformed to build dwellings and other service areas.

We are joyful because we are celebrating the Carlos Slim Foundation 25th anniversary –it was created in 1986.

That work was carried out in record time, yet we couldn't get it finished for Mexico's Independence Bicentenary time. In fact, the plaza's first few places began to operate in 2010. The Museum building, however, got delayed about three months. The structure was practically built in a one-year period, from September 2009 to the last months of 2010. This is record time. The sluggish work was excavation and parking lots construction because of huge dirt volume and complex engineering work. The rest was finished in just six or seven months.

Besides congratulating and thanking Fernando Romero because of his project and his crucial participation in the plaza and museum building work, I want to congratulate all of the contributors: engineers, welders, structure technicians, ironworkers, etc. They all have accredited their respective diplomas.

I want to congratulate also Alfonso Miranda, museum's director, and our friend Alejandro Massó, who has helped us a lot in art collection arranging during the last busy 40 days. I want to thank all of them and especially to the museum's staff, all of those packing and installing the art works, and those who have worked extra-time to have the work done before inauguration.

This meeting is to ratify you that the museum will be opened tomorrow. Its inauguration has been deferred during some weeks because of added security and service provisions for visitors, office installation and other control measures.

Some measures are simple, yet they are important. That lobby, by instance, is big and fantastic. As to our knowledge, there are no many lobbies like this.

Carlos Slim Foundation's main aim is to create human capital through nutrition, health care, education and culture. Yet, at least at the present stage, knowledge society is not limited to acquiring information and knowledge. People's sensibility and interest for beauty, aesthetics and human history should also be nurtured. Such are the basis for this museum, in which people –especially those who find difficult travelling abroad– could appreciate universal and Mexican art works by great masters and art historians.

I would like to insist that entrances are for free and that the museum will impart free talks and learning material for interested persons.

Now, I would like to describe the museum and the art-collection gathering through the years.

First, the museum area is about 10,000 square meters. It has five floors for parking lots underground –one of them exclusive for the museum visitors–, all of them connected to the plaza. Underneath the ground on we already stand, there are two big areas, one for offices and storehouse for non-exhibiting art pieces, and another one for harboring the Latin American Library having about 3,500 Latin American art books, the Gibran Archives (which is a part of the foundation cultural endowment) and probably a part of the Carso Mexican History Center for research use.

A coffee shop is backwards this lobby, and an art store will be opened soon. There is a 350-people capacity auditorium for keynote addresses and diverse events. There is also a free-use digital high-speed internet classroom where children could learn to use broad-band internet. The museum schedule is 10:30 am to 18:30 pm.

The sixth floor harbors a big exhibition area being supported by perimetrical columns and a focal point. It is designed for exhibiting our Rodin collection and Dali, Claudel and others' artworks.

The fifth floor harbors twentieth and some nineteenth century Mexican and pre-Hispanic art works. Pre-Hispanic art pieces are mainly from the Pacific cultures.

The fourth floor harbors great European painting, mainly French, and great Mexican paintings dating from the last decades of the nineteenth century and the first part of the twentieth one. It also harbors art work by foreign painters with Mexican themes.

The third floor harbors a mix of great European and neo-Hispanic painters.

The second floor harbors Mexican portraits and Mexican homey environment, including epochal furniture, domestic and musical instruments, garments and some European and American objects, most of them from the nineteenth century.

The first floor upstairs harbors miniature, coin, ivory and silver collections. Some of these pieces pertained to Luis Gonzalez Obregon, the antiquarian and old chronicler of Mexico City. It also includes related paintings.

In 1976, 35 years ago, we bought 60% of Galas de Mexico, a firm specialized in producing commercial labels and wrappings for processed foods, and better known by its illustrated calendars, a usual marketing vehicle during the 1940s up until the 1960s. The calendars' original drawings were oil paintings mainly. Color separation was protected by glassware. Galas de Mexico made a lot of color photography. Well, most of the first floor art collection, tens of thousands pieces and about 1,500 oil paintings, come from it.

Yet, our interest in collecting all of these pieces in a museum did arise in 1986, when I bought Gonzalez Obregon's well-endowed collection, colonial art mainly, including painting, quilting, ivory, silver and miniature pieces. By the way, 1986 is when our foundation was created.

Later, in 1989, I bought Mr. Licio Lagos' gold and silver coin collection having pieces dating from 1732, when Casa de Moneda was instituted. It is a love-made, almost unknown collection, now being a part of the museum first floor. We think it is very interesting, perhaps the thorough Mexican coin collection. Later the Ganassi family donated us a Second Empire silver coins and commemorative medals collection, also exhibited in first floor.

Later we bought the American Bank Note Mexican original bills collection. The American Bank Note was the responsible for engraving Mexican paper money since about 1880 until Banco de Mexico began to engrave it about the end of the 1970's decade. Some of you could recall those bills with the following inscription: "Hecho en American Bank Note".

We also have a spoons collection, about 2,300 spoons collected by Mr. Ernesto Richheimer, who asked Soumaya Museum to keep and exhibit it.

We also have Gibran Jalil Gibran's documents and paintings. He is better known by his writings, but he also made painting.

We have acquired many art pieces in public auctions by galleries, mainly in Christie's, Sotheby's and Lopez Morton in Mexico. We have acquired many Latin American and European art pieces here in Mexico. They all are exhibited here in or in Plaza Loreto.

When we bought Sanborn's in 1985 we were lucky in acquiring two Rufino Tamayo's big pieces, of which we are very proud and happy. Both of them are exhibited here in. One of them is the Naturaleza muerta mural being exhibited at your back. Tamayo painted it in 1954 for Sanborn's Lafragua. The other one is El día y la noche, being exhibited in Plaza Loreto.

I want to affectionately and cordially thank the Suarez family by entrusting us two big and very important pieces through a ten-year commodate. One is Diego Rivera's Rio Juchitan, the last mural he painted, representing everyday life in a fantastic and beautiful manner. The other one is a Siqueiros' piece which is being exhibited in fifth floor.

The Carlos Slim Foundation and Soumaya Museum thank most of the big museums of Mexico by kindly lending us an art piece each for inauguration. They have lent us 50 pieces each.
Thanks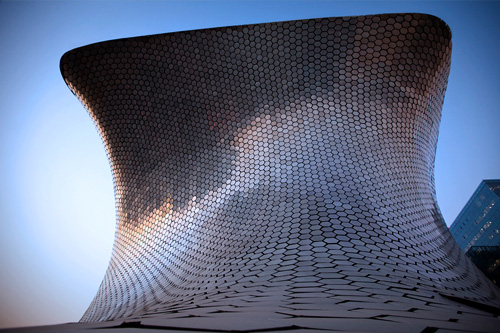 Official Site. Copyright © 2015