The World Wide Fund for Nature (WWF) and Fundacion Carlos Slim announced an initial investment of $100 million dollars to support the conservation of biodiversity and promote sustainable development in Mexico.
June 4, 2009. Cozumel, Quintana Roo.

This was announced in the framework of the celebrations of the World Day of the Environment, which is celebrated on June 5th and this year Mexico will be the host country.

In this way the Alliance WWF-Fundacion Carlos Slim will participate in the federal government initiative, promoted through the Ministry of Environment and Natural Resources (Semarnat), to detonate significant changes in six priority regions in Mexico, by means of support for mitigation and adaptation to climate change, the integrated management of water, the harmonization of public policies, the strengthening of civil society, the investment in local sustainable economies and the development of innovative financial mechanisms.

Eng. Carlos Slim, noted that it is better to invest in protecting the natural wealth, because if don't, the damage to the ecosystem will be much more expensive. He added that the 100 million dollars, of which its Foundation contributed with 50 percent, are part of an initial investment to rescue the Mexican biodiversity.

He explained: "This Alliance, with the participation of recognized environmentalists leaders committed to the conservation of biodiversity, has developed a Mexican agenda and identified six priority regions of conservation as well as numerous projects to make concrete actions, to support and promote public policies and the efforts of many organizations and specialists".

Eng. Omar Vidal, executive officer of WWF-Mexico, expressed: The Mexican agenda supported by the Alliance WWF-Foundation Carlos Slim will boost transformations in the conservation of biodiversity and the welfare of the local populations, to convert the six regions in global models of environmental sustainability, at the same time that contribute and benefit from other experiences and initiatives in the regional, national and global scopes".

The initiative aims to support the conservation of biodiversity of 17 areas of exceptional natural richness, grouped in six priority regions in Mexico: Gulf of California, Chihuahua's Desert, Mexican Mesoamerican Reef, Oaxaca, Monarch Butterfly and Chiapas (Lacandona Jungle, El Triunfo).

The six selected regions are representative of 30 percent of the territory of the country and house natural resources, cultural and human which are important for Mexico and the world.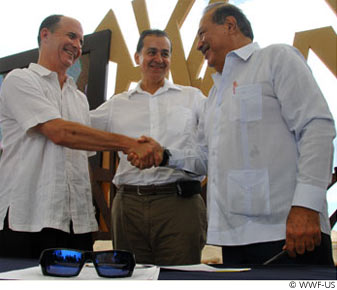 WWF President and CEO Carter Roberts, Mexican Environment Secretary Juan Rafael Elvira Quesada, and Eng. Carlos Slim.

Official Site. Copyright © 2015