The President of Lebanon, Mr. Michel Sleiman, did honor Mr. Carlos Slim by awarding him the Lebanese Gold Order to Merit, while the Jezzine Municipal Government did name him Honorific Citizen.
Beirut, Lebanon, March 12, 2010.
Mr. Carlos Slim has been honored by the government of Lebanon by awarding him the Lebanese Gold Order to Merit in Beirut, where he recently stood to meet several public functionaries.
The President of Lebanon, Mr. Michel Sleiman, did praise Mr. Slim entrepreneurial career and did thank him by honoring Lebanon's name in the whole world.
Mr. Slim lasted a week period in Lebanon, where he carried out the following activities:
March 12: Mr. Slim traveled by downtown Beirut being accompanied by Lebanese public functionaries, who explained him the reconstruction and urban development works aimed to make downtown Beirut one of the most beautiful districts in the whole Middle East.

Mr. Slim met high representatives of the state of Lebanon, including Mr. Nabih Berri, President of the Lebanese Parliament, and Mr. Saad Hariri, Prime Minister.

At night, Mr. Slim attended a dinner in his own honor by Mr. President, Michel Sleiman, in Baabda Presidential Residence.


March 14: Mr. Slim went to Jezzine, south Lebanon, his parents' birth place, and visited their home.

The Jezzine Municipal Government conferred Mr. Slim the Honorific Citizen Certificate. Jezzine's dwellers did honor Mr. Slim by offering him a traditional feast and praised him by making them proud.


March 16: Mr. Adnan Kassar, State Minister and Lebanon's Economic Commission Chief, conferred Mr. Slim a formal recognition because of his entrepreneurial achievements.

Mr. Slim went to Bsharri, where he visited the poet, philosopher and painter Gibran Kahlil Gibran´s Museum.


March 17: Mr. Slim addressed the lecture "The new communication society and technology" in the American University, being attended by hundreds of students.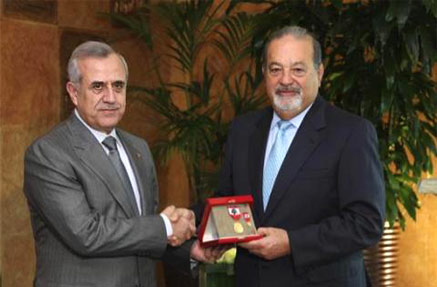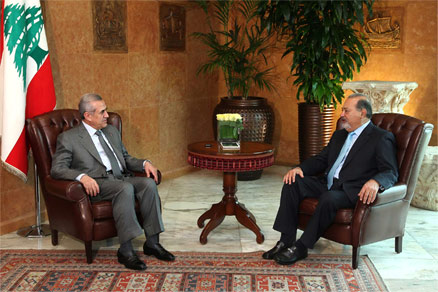 Official Site. Copyright © 2015.