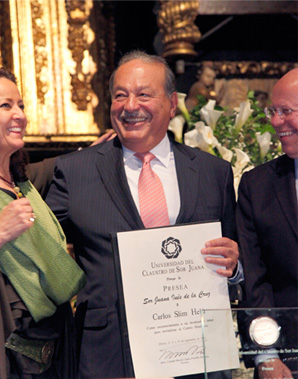 Claustro de Sor Juana University awarded Mr. Carlos Slim the "Sor Juana Inés de la Cruz" Medal due to his effort to revive Mexico City's Historic Center
September 29, 2011, Mexico City
Mr. Carlos Slim was awarded the medal due to his ten-year efforts to revive Mexico City's Historic Center

The "Sor Juana Inés de la Cruz" medal is the Universidad del Claustro de Sor Juana's highest distinction for both Mexican and foreign persons achieving remarkable scholarly, artistic, social or cultural work for the benefit of society.
"I am deeply grateful to Universidad del Claustro de Sor Juana, its general council and dean for conferring me that award, which I joyfully accept", Mr. Slim said, after receiving the medal from Dean Carmen Beatriz López Portillo.
The ceremony was attended by Dr. José Narro Robles, UNAM's rector, journalist Jacobo Zabludowsky, and Alejandra Moreno Toscano, general coordinator of Historic Center Authority.
The Consulting Board of Historic Center Revival was instituted ten years ago with Mr. Slim as executive chairman.
During the last ten years, Grupo Carso has created more than 8,400 permanent jobs, and restored more than 100,000 square meters for offices and more than 60,000 square meters for dwelling houses in the Historic Center. During that time, Historic Center has become Mexico's biggest tourist attraction after being almost abandoned.
The "Sor Juana Inés de la Cruz" award consists of a medal and a parchment title.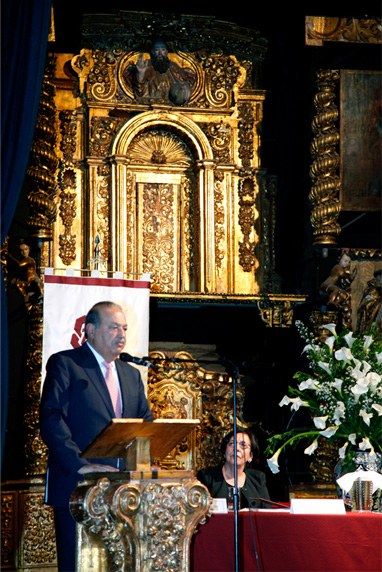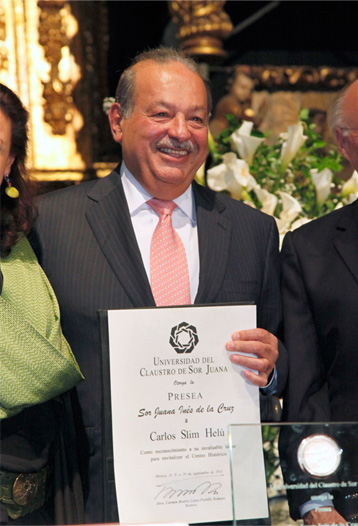 Official Site. Copyright © 2015.