Mr. Carlos Slim receives the UNESCO Medal recognizing his contribution to make sure that Information and Communication Technologies benefit the population.
February 27, 2015. Paris, France.


UNESCO recognizes Carlos Slims quest to promote ICT's as a development tool.
UNESCO's Director General, Irina Bokova, granted Mexican business leader Carlos Slim Helú one of the first UNESCO commemorative medals celebrating the organization's 70th anniversary. The award recognizes his contribution to make sure that the use of Information and Communications Technologies benefits the population.

Along with the President of the Carlos Slim Foundation, other laureates included the President of Rwanda, Paul Kagame and the Secretary General of the International Telecommunications Union (ITU), Houlin Zhao.
Carlos Slim Helú is Co-chair of ITU's Broadband Committee. Through TELMEX and the Carlos Slim Foundation he supports several initiatives that allow people of all ages and with different digital knowledge levels to attain technological skills that improve their education and training, consequently widening their opportunities to successfully enter the labor market.
Initiatives promoted by Slim Helú in the ICT sector include the Telmex Digital Library network, the "Academica" program, Telmex Hub, and the Training for Employment program, among others.
"I would like to thank Mr. Carlos Slim for his outstanding commitment in channeling the power of new technologies to build more inclusive and sustainable knowledge societies; this has never been as important as it is today", stated Irina Bokova, UNESCO's Director General, when granting him the award.
"The Broadband Committee for Digital Development is an essential tool for innovation, aiming at the sustainable and inclusive development of all; this is a flagship goal for UNESCO in its quest to build a better future for all, and is the key message on its 70th anniversary", she added.
Mr. Slim, expressed "I congratulate UNESCO on these 70 years of contributions; its mission has been fundamental in the context of this new era of civilization. Its efforts in the broadband sector underline the important and urgent need for us to use technology in education and training for employment".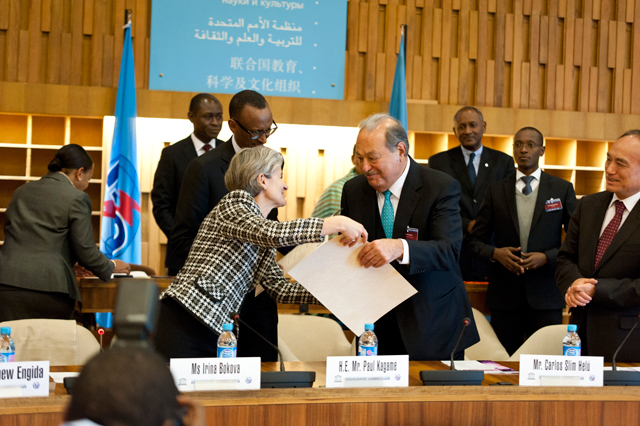 Official Site. Copyright © 2015.