His Majesty King Felipe IV of Spain, presented the "Enrique V. Iglesias Award" to Carlos Slim, for his contribution to the development of Ibero-America.
Madrid, Spain, October 25, 2023
His Majesty The King presented the "Enrique V. Iglesias Award" to Carlos Slim, for his contribution to the development of Ibero-America.

The recognition, promoted by the Alliance for Ibero-American Business Council (Consejo Empresarial Alianza por Iberoamérica) (CEAPI), highlights the work and commitment of players from the private sector in the economic and social development of the region.
The Chairman of Carso Group was unanimously elected by the Jury for his contribution to the business development, job generation and rapprochement among Ibero-American countries.
The CEAPI Chairman, Núria Vilanova, explained: "Engineer Carlos Slim is an example in the business environment. His reliance on technology has propelled his telecommunications companies to be present in Latin America, Europe, Africa and the Philippines."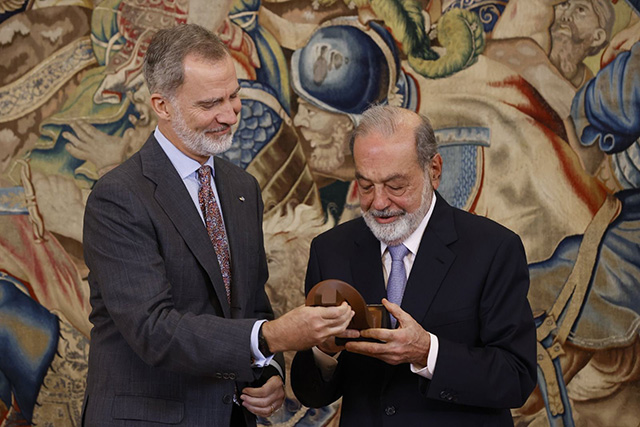 His Majesty The King presents the 9th Enrique V. Iglesias Award for the Development of the Ibero-American Business Space, to Carlos Slim, Honorary Lifetime Chairman of Carso Group.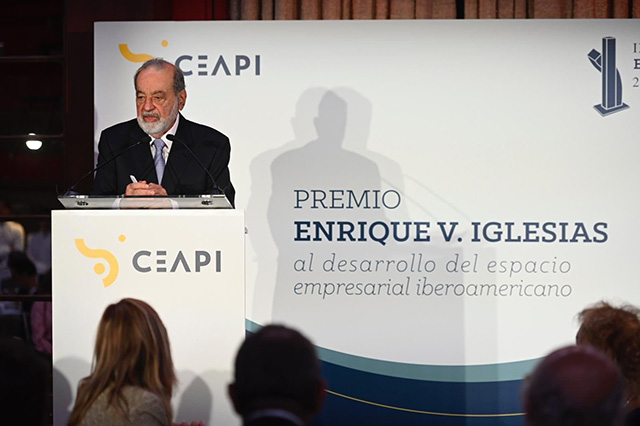 Madrid, October 25, 2023. Today, the Honorary Lifetime Chairman of Carso Group, Carlos Slim, received the 'Enrique V. Iglesias Award for the Development of the Ibero-American Business Space', from the hands of HM The King. This Award recognizes his contribution to the economic and social development of Ibero-America, and to strengthening ties among countries that are a part of it. The awarding ceremony was attended by high level institutional and business representatives, such as Núria Vilanova, CEO of the Alliance for Ibero-American Business Council (Consejo Empresarial Alianza por Ibero América) (CEAPI), and the Previous Award Winner and CEO of Banco Santander, Ana Botín.
In the event, Núria Vilanova thanked the Chair to HM The King, emphasizing that, "He is an example of commitment, courage, effort, abnegation, project, purpose, love and family. A restless allied who works for the union of Spain and the rest of the region, where is efforts are recognized, and he is cherished and admired."
Mrs. Vilanova also emphasized that, "this Award is different from others, given the hospitality of HM The King, who invited us to live it as a family and in the Palace; and the generosity of Carlos to share this Award and his life with people he loves." She also confided that, "for the Jury, the deliberation was very easy. Eng. Carlos Slim is a beacon of light in the business environment. His reliance on technology has propelled his telecommunications companies to be present in Latin America, Europe, Africa and the Philippines". The opportunity was also taken to welcome Mr. Slim as CEAPI partner.
Additionally, in absence of the CEAPI's Honorary President, Enrique V. Iglesias, Mrs. Vilanova read a few words on his behalf. "Just a handful of Ibero-American businessmen could receive this Award more meritoriously than Carlos Slim, who has honored me with his friendship for many years. That's how I've followed him and seen all the support given by his companies to the economic and social development of Mexico and Ibero-America."
For his part, Carlos Slim stated that, "Poverty, margination and ignorance have always been ethical and social fairness issues, but today, they are economic needs. Therefore, the best public and private investment is fighting poverty and giving marginalized populations access to education, health and better paid employment sources."
In his speech, Mr. Slim thanked being awarded, "I am grateful for the honorable distinction the CEAPI has bestowed upon me, which bears the name of my dear and admired friend, Enrique V. Iglesias. An Award that I receive on behalf of myself, my family, 69,000 FCC employees in Spain and in a number of countries; and on behalf of 290,000 people in a Group which began in Mexico on 1965 with eight members."
Mr. Carlos Slim was unanimously chosen by the Jury of this Award, promoted by the Alliance for Ibero-American Business Council (Consejo Empresarial Alianza por Ibero América) (CEAPI).
The Enrique V. Iglesias Awarding Ceremony, was held in La Zarzuela Royal Palace, in Madrid, in an event attended by high-level institutional and business representatives, including the Previous Award Winner, Executive Chairman of Santander Bank, Ana Botín; Andrés Allamand, Ibero-American Secretary-General (Secretario General Ibero-Americano) (SEGIB); Esther Alcocer Koplowitz, President and Marquise of Casa Peñalver; José Luis Bonet I Ferrer, President of the Spain Chamber; Ana Botín, Founder and President of Grupo Santander; Juan Luis Cebrián, Honorary President of El País; Mireya Cisneros, President of Unidos en Red; Antonio Fernández-Galiano, President of the Advisory Council of Atrevia; Isidoro Fainé, President of La Caixa Foundation; Antonio Garamendi, President of the Spanish Confederation of Business Organizations (Confederación Española de Organizaciones Empresariales) (CEOE); Felipe González Márquez, Former President of the Government of Spain; Mariano Jabonero, General Secretary of the Organization of Ibero-American States (Organización de Estados Ibero-Americanos) (OEI); Esther Koplowitz, Vice President and Marquise of Cárdenas de Montehermoso; Gina Magnolia Riaño Barón, General Secretary of the Ibero-American Social Security Organization (Organización Ibero-Americana de Seguridad Social) (OISS); Quirino Ordaz, Ambassador of Mexico in Spain; Max Trejo, General Secretary of the International Juvenile Justice Observatory (Observatorio Internacional de Justicia Juvenil) (OIJJ), and Ignacio Ybarra, President of Vocento.
Since 2014, this Award recognizes business figures of the Ibero-American Community who stand out for their relevant and extraordinary contributions to the development of countries in the region; to strengthening ties among nations of the Community, through economic activities, investment and trade promotion; and forging a more inclusive and sustainable region.
This distinction is also recognition and homage to Enrique V. Iglesias, Honorary President of CEAPI and tireless advocate for the Ibero-American cause during his long career, first as President of the Inter-American Development Bank (IDB), and later as the first Ibero-American Secretary General.
The Mexican Businessman, Valentín Diez Morodo, was the first recipient of this Award, which in later editions has been granted to the Colombian builder and philanthropist Luis Carlos Sarmiento; the Spanish-Mexican, now deceased, Founder of the VIPS Group, Plácido Arango; the President of the Pan-America Energy Group, Alejandro Bulgheroni; the former President of CAF, Enrique García; the President of Copa Holdings, the Panamanian Stanley Motta; and the Executive Chairman of Grupo Santander, Ana Botín, first woman honored with this title. The president of the Colombian Business and Banking conglomerate, Gilinski Group, Jaime Gilinski, received this Award in the previous edition.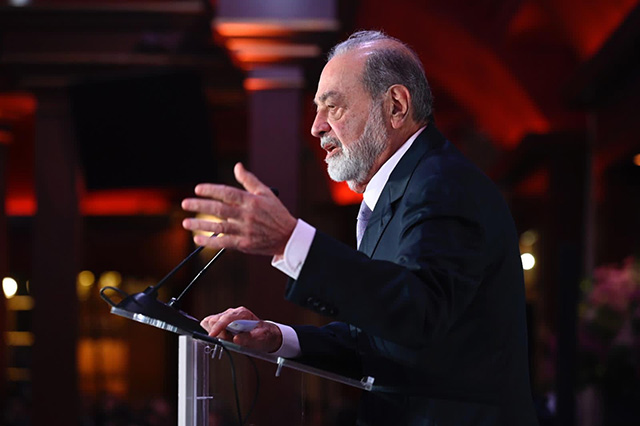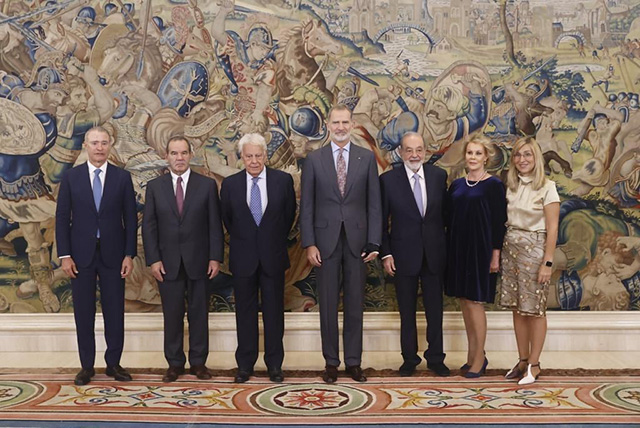 (Left to right) Quirino Ordaz, Andrés Allamand, Felipe González, HM The King, Carlos Slim, Mercedes Sánchez-Navarro and Núria Vilanova.
The Awarded
Carlos Slim Helú was born in Mexico City, on January 28, 1940. His upbringing in the bosom of a united and strong-minded family gave him the solid foundations that would become his business hallmark. His entrepreneurial vision is based on social responsibility, being a tireless promoter of education, culture, sports and human development. He is also a family man with strong values, who has always demonstrated his unfathomable commitment and love for Mexico.
Being just 21 years old, he completed his studies in Civil Engineering at the National Autonomous University of Mexico (Universidad Nacional Autónoma de México) (UNAM), where he also taught Algebra and Linear Programming. In 1965, his strong business vocation led him to found Inversora Bursátil, of which he became Chairman of the Board of Directors; and later, Carso Real Estate, starting a chain of events that gave rise to what is now known worldwide as Grupo Carso. Carlos Slim's vision and his strong commitment to Mexico allowed him to venture into the industrial, financial, commercial and food sectors, among others, between 1965 and 1989.
Today, the business groups he founded, including América Móvil and Carso Group, have presence in 24 countries, mainly in the telecommunications and construction sectors. His vision in the telecom industry led him to create the first prepaid plan for mobile telephony, and financing computer equipment at the Internet onset. He currently serves as Co-chairman of the Broadband Commission of the International Telecommunication Union.
His business leadership has earned him a number of national and international recognitions, such as the Queen Sofia Award for Excellence, which he received last April from the Sovereign, for his philanthropic work. On 2012 he was awarded as Doctor Honoris Causa, by the George Washington University, to recognize his achievements and leadership in the social, educational and business development of Mexico.
Among other awards, Eng. Carlos Slim Helú has been appointed Corresponding Academician of the Royal Academy of Engineering in Madrid; has received the Medal of Honor granted by the Carlos III University of Madrid; the Humanitarian Award from the Andrea Bocelli Foundation, as well as the National Engineering Award in Mexico.
Delivering on his commitment to human development, during the COVID-19 pandemic, the Carlos Slim Foundation actively promoted the production of the Astra Zeneca vaccine for Latin America. It also established the Temporary COVID-19 Unit, which provided free care to thousands of patients and had a recovery rate of over 93%. It also developed two applications for the public health monitoring, prevention, follow-up and care during the sanitary crisis, which were awarded by the International Telecommunications Union.
Currently, the business activity of Mr. Carlos Slim is focused on a strong, clear message, the consolidation of elements empowering the country progress, such as health, education and employment. Proof of this is the creation and development of different foundations and permanent programs providing necessary conditions and opportunities for a better future, encompassed in the "Carlos Slim Foundation", of which the former "Telmex Foundation", now Telmex-Telcel, has been a part since 1996.
Through the "Carlos Slim Foundation", Mr. Slim is fostering education and connectivity with the online education platform Aprende.org, which provides free courses and job training on different educational fields.
In Spain, Carlos Slim is a partner and operator of Fomento de Construcciones y Contratas (FCC), a building company he joined as investor in 2014. He also owns 75% of the capital of the real estate developer Realia, among other assets in our country.
The Jury
In this edition of the Enrique V. Iglesias Award, the Jury was composed by Enrique V. Iglesias, the Award President; Núria Vilanova, President of CEAPI and Award Secretary; Andrés Allamand, SEGIB; María José Álvarez, President of Eulen; Josep Lluis Bonet, President of the Spain Chamber; Josep Borrell, High Representative of the European Union for Foreign Affairs and Security Policy; Ana Botella, President of Integra Foundation; Ana Botín, Executive Chairman of Banco Santander (Winner of the 8th Award); Alejandro Bulgheroni, President of the Pan American Energy Group (Winner of the 5th Award); Juan Luis Cebrián, Honorary President of El País; José Creuheras, President of Grupo Planeta; Sergio Díaz-Granados, President of CAF; Valentín Díez Morodo, President of COMCE (Winner of the 1st Award); Antonio Fernández-Galiano, Former President and CEO of Unidad Editorial; Antonio Garamendi, President of the CEOE; Jaime Gilinski, President of the Gilinski Group (Winner of the 8th Award); Javier Godó, President of Grupo Godó; Rebeca Grynspan, General Secretary of UNCTAD (Winner of the Award); Mariano Jabonero, General Secretary, OEI; José Luis Martínez Almeida, Major of Madrid; Xiana Méndez, State Secretary of Commerce; Stanley Motta, President of COPA Holdings (Winner of the 6th Award); Joseph Oughourlian, President of Grupo Prisa; Gina Magnolia Riaño, General Secretary of OISS; Luis Carlos Sarmiento, President of OLCSAL (Winner of the 2nd Award); Max Trejo, General Secretary of OIJ, and Ignacio Ybarra, President of Vocento.
About CEAPI:
The Business Council Alliance for Ibero-America (CEAPI) is an association comprising more than 250 business owners and presidents of leading Ibero-American companies. Its mission is to recognize and promote the role of business owners and their impact on society by championing social commitment and sustainability.
CEAPI's vocation is to build a more united Ibero-America and to forge relationships of trust among business owners on the path to growing and strengthening the Ibero-American business fabric. As a think tank, we reflect on both challenges and opportunities within the region, fostering dialogue with political and institutional leaders, seeking to enrich public-private partnerships and making room for new generations and the key role now played by women in developing business and society.

Official Site. Copyright © 2015.