Carlos Slim Foundation receives the International Recognition Award 2015 for its contributions to improve global health
March 10, 2015. Houston, Texas, U.S.A.


Texas Children's Hospital granted Carlos Slim Foundation the International Recognition Award 2015, during the celebrations commemorating its 25th international symposium.

This year, "for the first time in the history of the Award, the committee selected an institution as the winner:  the Carlos Slim Foundation", stated Michael T. Walsh Jr., Director of the Global Health Initiative at Texas Children's Hospital.  The International Recognition Award was created in 1990 to recognize health professionals having contributed at global level to transform healthcare, education, research and access to health services, particularly among vulnerable populations.

The Award considered several activities promoted by the Foundation, most notably Slim Initiative for the Development of Tropical Disease Vaccines, launched in 2010 as a means to strengthen Mexico's capacity to develop and manufacture vaccines.

The Initiative is headed by a biotechnological consortium comprised of the Carlos Slim Foundation, the Baylor College of Medicine, the Sabin Vaccine Institute, the Center for Advanced Research and Studies (CINVESTAV) and the Autonomous University of Yucatan.

The Initiative includes a program to develop the first human therapeutic vaccine against the Chagas disease, considered as one of the main ailments associated to poverty.  The disease is mostly present in the most vulnerable segments of society and is responsible of perpetuating this condition, as it impedes adequate performance at school and work.  It is estimated that nearly 8 million people are affected by the disease, 2 million of which are living in Mexico.

The first phase of the research project has concluded and it demonstrated, at laboratory level, that the vaccine is potentially helpful to inhibit the progression of the disease to chronic or possibly fatal levels.  It can also be a valuable alternative against highly toxic treatments currently under use.  The second phase of the Initiative will spread over the next three years, preparing the vaccine for industrial production.

The Carlos Slim Foundation has benefited millions of people through its high-impact social programs.  It provides access to high-level healthcare, equipment and technology fostering preventive healthcare, professional development and training, research and specific solutions addressing the most important health problems in Mexico and Latin America.  With initiatives in the health and education sectors, among others, the Foundation strives to support human development and improve the quality of life.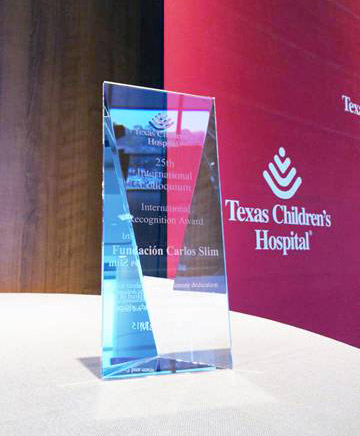 Official Site. Copyright © 2015.