Mexico City, May 15th , 2008
With the sponsorship of TELMEX, the Foundation ALAS (Latin America in Action Solidarity) conducted two simultaneous concerts in Mexico City and Buenos Aires.
Also, the businessman Carlos Slim Helu reaffirms its commitment to cooperate with the cause of ALAS, with a donation of $110 million to support programs for children.
The Foundation ALAS is an initiative launched by artists, entrepreneurs and intellectuals that drive the social commitment with the 32 million Latin American children under five years living in poverty. The aim is to improve their quality of life in terms of education, food and health, channeling all contributions to organizations that serve the childhood, through partnerships with institutions such as the Inter American Development Bank, the Organization of American States, the World Health Organization and the Red Cross.
This ambitious and innovative project led by the Nobel Prize for literature, the Colombian Gabriel Garcia Marquez, joins entrepreneurs committed to the development of Latin America as the Eng. Carlos Slim Helu, Emilio Azcarraga Jean, and July Santo Domingo, in addition to artists of the stature of Shakira, Jennifer Lopez, Alejandro Sanz and Juanes, among others.
In this way, the businessman Carlos Slim Helu makes a donation of $110 million to support programs for children, with the aim of promoting concrete actions to address the huge challenge to reduce poverty in the region, for the benefit of the Latin American children. This announcement was made by Shakira, who said: "Let me introduce you to someone who is special for me. He has been one of our most significant supports from the moment that ALAS was only an idea.  I am talking about my friend Carlos Slim. He has been at each meeting of ALAS, has been involved in every decision has been taken in the organization ALAS and is one of the founders. In addition, is a human being incredibly committed to Latin America and with children; is a man of a great heart, because I can assure it, and someone for whom I have great, great affection. I am very proud to announce the commitment of Carlos Slim with our Latin American children, by 110 million.

Thank you and we hope that this movement is the catalyst for major changes in Latin America, because our children are our collective future as a continent.
Let the World know that Latin America is responsible for their own problems. Latin America for Latin America and by their children. Thank you ".
The concert in Mexico will be carried out on Saturday 17 May, in the Zocalo Capitalino, Mexico City, where it is estimated will arrive around 200 thousand people to see in scene Aleks Syntek, Ana Torroja, Babasonicos, Chayanne, David Bisbal, Diego Torres, Emmanuel, Juan Luis Guerra, Juanes, Lucero, Tigres del Norte, Maná, Miguel Bose, Ricardo Montaner, Ricky Martin, Tania Libertad y Timbiriche.

In the city of Buenos Aires, the concert will be held in the Coastaner South, where expected to attend 150 thousand people to enjoy Alejandro Lerner, Alejandro Sanz, Calle 13, Fito Paez, Gustavo Cerati, Jorge Drexler, La Portuaria, Mercedes Sosa, Pedro Aznar, Paulina Rubio y Shakira.

TELMEX Mexico, TELMEX International, Telcel and Claro (Argentina) have decided to collaborate and resolutely active in this fight, whose main objective is that future generations of Latin Americans have better opportunities for development.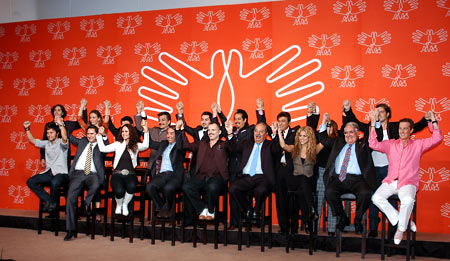 Official Site. Copyright © 2015.