The Carlos Slim Foundation and the Government of Honduras sign a cooperation agreement.
February 25, 2016. Mexico City.
The agreement foresees cooperation activities including training programs for employment, on-line education and support to Honduran migrants.


The Foundation will provide four digital programs to the Central American country: Training for Employment, Academica, the Khan Academy and Latino Access.


Mexico City, February 25, 2016. Mr. Juan Orlando Hernández, President of Honduras, and Mr. Carlos Slim Helú met today in Mexico City to sign a cooperation agreement between the Government of Honduras and the Carlos Slim Foundation. The document establishes the basic principles of a partnership agreement to provide training for employment, on line education and support to migrant populations. The objective is to foster larger participation of Honduran population in the use of technological platforms developed by the Foundation.

The Foundation will provide four technological platforms to its Honduran counterpart:

• Training for Employment
This platform helps develop productive capabilities in individuals in order to improve their living conditions by means of a decent job. The platform offers free on-line training on different types of skills, as well as technical and operational activities in a wide range of productive sectors. The platform is available to anyone free of cost, regardless of age, without time constraints and with no prerequisite of previous studies. The platform is an instrument that helps individuals find a job or launch their own business. To date, the platform includes 65 professions and counts over 400 thousand registered users.
www.capacitateparaelempleo.org




• Académica
This Spanish language digital knowledge community promotes interactive participation amongst students, teachers and researchers from prestigious higher education institutions around the world. Its aim is to create, share and exchange knowledge through a free on-line platform contributing to strengthen higher education systems. Académica has signed 495 cooperation agreements with higher education and research institutions as well as private companies; it has 182,806 registered users to date.
www.academica.mx




• Khan Academy in Spanish
This platform offers a wide range of subjects and academic training with special focus on those with a higher added value to generate knowledge. Its main objective is to train human capital. To date, the Spanish language platform provides services to hundreds of thousands of users.





• Latino Access
This platform offers the Hispanic community free access to a range of tools in three basic areas: education, training for employment and legal procedures. To date, Latino Access has serviced 1 032 458 users.
www.accesolatino.org



The delegation that accompanied the President of Honduras during the signing ceremony was composed of Mr. Ebal Díaz, Presidential Adviser; Mr. Roberto Ordoñez, Secretary of Productive Infrastructure; Ms. Alden Rivera, Honduran Ambassador to Mexico and businessmen Jesús Canahuati, Executive Vice-president of ELCATEX and Luis Larach, CEO of COHEP.
---
About the Carlos Slim Foundation

Created in 1986, the Carlos Slim Foundation supports high impact programs focused on the most vulnerable populations, benefitting millions of persons. With its high sense of social responsibility, efficiency and opportunity, the Foundation offers programs in the following sectors: education, health, nutrition, justice, culture, human development, natural disaster relief, economic development, environmental protection and conservation, among others. Through its programs, the Foundation contributes to improve the living conditions of populations in all age groups, fostering human capital development and creating opportunities for the integrated development of individuals and their communities.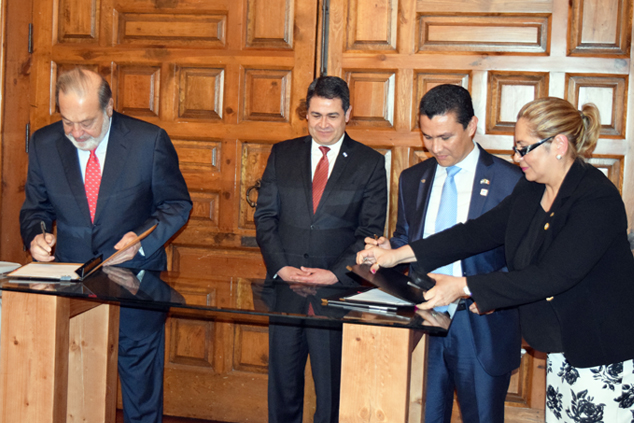 The President of Honduras, Juan Orlando Hernández (center); Ebal Díaz, Presidential Adviser and Mr. Carlos Slim Helú, during the signing ceremony.

Official Site. Copyright © 2015