Eng. Carlos Slim participated in the opening ceremony of the event Fideicomiso para el Impulso de la Ingeniería organized by the Colegio de Ingenieros Civiles de México (Civil Engineers College) in which the new web site iNGENET was introduced,  created and sponsored by TELMEX.
Mexico City, November 20th, 2008.
During his presentation, Eng. Slim expressed that "the best way to cope with poverty is employment, health and education. The better education, the better opportunities of jobs in the future".
And added "it must be a priority to invest in order to urge the employment; it is more important to think how we can generate more employment than be focused in the economic growth, we need to set in motion small and medium-size business, attend the agricultural sector, create infrastructure and concentrate in housing projects".
Furthermore, Eng. Slim stated that it is necessary to reactivate credits around the world and affirmed that one of the biggest problems to prevent is the worldwide credit restriction.
The Fideicomiso para el Impulso de la Ingeniería is trying to support the infrastructure of the country, it will cost 200 million pesos in which 51% of this resources will be a contribution of  Mexican construction firms and the other 49 percent will be donated by the Fondo Nacional de Infraestructura (Infrastructure National Fund) of the government of Mexico.
iNGENET (www.ingenet.com.mx) is a web site developed by TELMEX and it is focused to promote de Engineer sector, as well as the infrastructure.  It's a non-profit program for engineers, students, firms and all the ones interested in this sector.  It will include infrastructure and engineer themes with the collaboration of Private Institutions, the Public Sector, Academic Institutions and professional Colleges.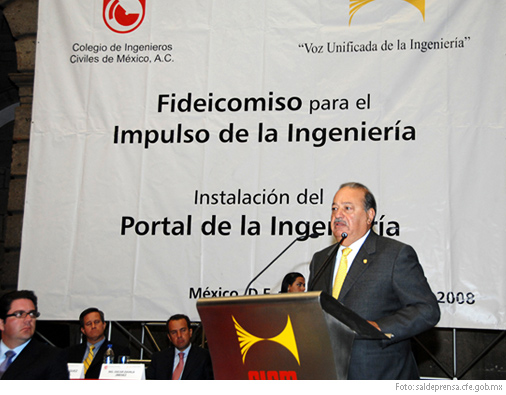 Official Site. Copyright © 2015.