Petra Nemcova's Happy Hearts Fund Land of Dreams Gala: Mexico with Special Guest Carlos Slim & Honoring Howard Buffett.
December 12, 2012. New York, NY.


NEW YORK, Dec. 12, 2012 /PRNewswire/ -- On Tuesday, December 11, 2012, Happy Hearts Fund (HHF),Petra Nemcova and special guest Carlos Slim hosted the 2012 Happy Hearts Fund Land of Dreams: Mexico Gala at the Metropolitan Pavilion in New York City where a partnership between the Carlos Slim Foundation and Happy Hearts Fund was announced. The partnership will rebuild schools in Mexico beginning in Veracruz. Founded by Petra Nemcova in 2006, Happy Hearts Fund is a nonprofit organization dedicated to rebuilding schools and restoring hope and opportunity in the lives of children after natural disaster. Happy Hearts Fund works during the period after emergency response is complete, implementing sustainable practices to ensure a lasting impact.

As guests entered the Metropolitan Pavilion they were given a 'passport' and greeted by flight attendants who invited them to be transported to cities throughout Mexico visually and artistically for a unique and interactive sensory experience. Each year the Land of Dream's Gala showcases the treasures of a country where Happy Hearts Fund has a presence. "Tonight was about celebrating the treasures of Mexico, rebuilding schools and the importance of a sustained response after natural disasters. Our guests from around the world have shown how interdependent we are and how coming together we can transform the world", stated Founder and Chair, Petra Nemcova.

Accepting the Honored Partner award was Lynne Greene, Group President, The Estee Lauder Companies, Inc. / Global President, Clinique. Clinique, a leader in global beauty, recently announced a multi-year partnership with Happy Hearts Fund, that included the launch of a limited edition "Happy Heart" 30ml fragrance and t-shirt with the message 'Make Someone Happy' that will benefit Happy Hearts Fund.

"Education is the single greatest opportunity one can give to a child. It is the passport to brighter possibilities, transforming individuals, families and communities along the way. Together with Happy Hearts Fund, it is our mission to put a smile on the face of every child we touch and together we can accomplish great things" said Lynne Greene, Group President, The Estee Lauder Companies, Inc. / Global President, Clinique.

During the Gala it was announced that United Airlines has become the official airline of Happy Hearts Fund. Phillip Caputo, Happy Hearts Fund Executive Director, speaking about the United partnership stated, "Having a global airline partner gives Happy Hearts the opportunity of having a direct presence at our schools around the world. United has long shown a commitment to natural disaster response by providing much needed logistical support and transporting of life-saving supplies. Now, through this partnership, United is again leading the way by making a commitment to the sustained response of natural disasters".

Happy Hearts Fund presented Howard G. Buffett, President of the Howard G. Buffett Foundation, with the Lifetime Achievement Award and announced their partnership which begins with the rebuilding of a school in Peru. Don Juan Beckmann Vidal, Chairman of Jose Cuervo was award the Heart of Gold Award for his philanthropic work throughout Mexico. Simon de Pury, the evening's auctioneer entertained the guests with his humor and passion for the event. The evening's auction raised nearly$2.2 million to build 30 new schools in disaster affected areas of Peru, Indonesia, Haiti and in Mexico.

Nicole Lapin served as the evening's emcee and guests were entertained by five-time Grammy Award winner Marc Anthony. The audience was captivated by singers from the Sociedad Internacional de Valores de Arte Mexicano Foundation (SIVAM) and 11 year old student Stephanie Lopez Lopez of Tabasco, Mexico who delighted the audience with her dancing.
Notable attendees for the evening included: Petra Nemcova (Founder and Chair), Grammy Winner Marc Anthony (Musical Guest), Carlos Slim (Special Guest), Howard G. Buffett (Honoree), Lynne Greene (Honoree for Group President, The Estee Lauder Companies, Inc./ Global President, Clinique), Heba Abedin, Chase Blackburn (NY Giants), Romero Britto, Nicole Lapin (Emcee), Honorable Laurent Lamothe, Prime Minister of Haiti, Roy & Barbara March, Steve McCurry, Simon de Pury (Auctioneer), Honorable Carlos Sada, Consul General of Mexico, Russell Simmons (Board Member), Judith Missoni, William Lauder, Summer Rayne Oakes, Don Juan Beckmann Vidal, Chairman Jose Cuervo (Honoree), Veronica Varekova, Dr. Ruth Westheimer, Alina Baikova, Svetlana Nemkova, Josh Charles (The Good Wife), Archie Punjabi (The Good Wife), Tie Domi(Hockey Player), and Vivienne Tam (Designer).

Happy Hearts Fund is active in six countries and has built or rebuilt over 70 schools and kindergartens. Since its inception, the Fund's programs have benefited more than 40,000 children and 337,000 community members.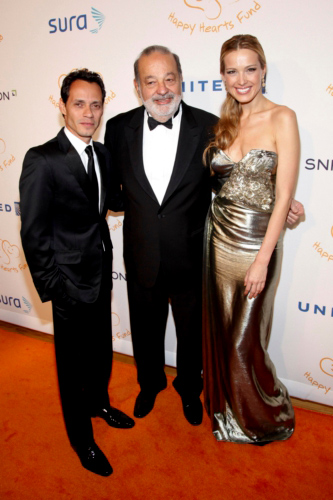 Mr. Carlos Slim with the singer Marc Anthony and the top model Petra Nemcova.

Official Site. Copyright © 2015.