Bill Gates y Carlos Slim support food-production research.
February 13, 2013. Texcoco, México.

The Bill & Melinda Foundation and the Carlos Slim Foundation support agriculture and productivity research.
The mission: Improve food security
February 13, 2013.

CIMMYT was the cradle of the Green Revolution and this alliance will significantly accelerate improved farm productivity through cutting-edge research capacity and advanced facilities.
This support will bring together national and international research communities in programs conducted at CIMMYT headquarters in Mexico and having worldwide impact.
The new facilities include bioscience laboratories and specialized greenhouses.
EL BATÁN, MEXICO, 13 FEBRUARY 2013- With the inauguration of the new research complex at the International Maize and wheat Improvement Center (CIMMYT), the Bill & Melinda Gates Foundation and the Carlos Slim Foundation reaffirm their support for cutting-edge research. At a cost of US$ 25 million, the new advanced bioscience research facilities are located at CIMMYT headquarters only 45 kilometers (20 miles) from Mexico City.
The event was attended by Lic. Enrique Martínez y Martínez, Mexican Minister of Agriculture (SAGARPA), and Dr. Eruviel Ávila Villegas, Governor of the State of Mexico.
The new bioscience complex will allow researchers to speed the development of valuable seed, by way of more precise characterization of its genetic traits, such as heat and drought tolerance, disease and pest resistance, and seed health, as well as the nutritional and industrial quality of the grain.
CIMMYT was the cradle of the Green Revolution 60 years ago. By providing cutting-edge facilities and an enhanced research capacity, this alliance will significantly improve farm productivity. The complex includes highly-specialized greenhouses for crop breeding experiments involving the field pathogens that can devastate maize and wheat harvests. About 5,500 square meters of new labs will be used for a series of innovative research projects and include, for example, the Maize Nutritional Quality Laboratory, which will analyze nutrients involved in fortifying maize grain for better human health.
"We are enthusiastic about this alliance," said Bill Gates, co-founder of the Bill & Melinda Gates Foundation. "Bringing together the collective experience of our respective organizations, we can promote innovation to transform the lives of farmers in Mexico and around the world. Investing in agricultural development is one of the most effective investments we can make. It allows farming communities to become self-sufficient and prosperous by growing and selling more of what they produce."
Carlos Slim said: "This alliance to promote research and development by CIMMYT, with the collaboration of national and international scientists dedicated to improved seed and generating more efficient techniques, is a step toward making this knowledge available to farmers everywhere, particularly small- and intermediate-scale farmers, as well as promoting economic growth, employment, and food self-sufficiency and exports from this sector."
The impact of the commitment made today by both foundations will be felt beyond Mexico's borders. The new facilities will bring together the national and international research communities in programs conducted at CIMMYT headquarters in Mexico and having worldwide impact. Complex processes requiring highly-specialized equipment and the most modern tools can now be carried out here at a lower cost, giving Mexico a strategic position in the region. With increased dormitory capacity and seminar and workshop spaces, the new facilities also allow CIMMYT to double its strategic training activities.
"We will see the introduction of modern and more sustainable farming practices," said CIMMYT Director General Thomas A. Lumpkin. "These include precision and conservation agriculture, backed by intelligent mobile phone services in farmers' fields and digital tools in labs that will open our access to the full genetic diversity of maize and wheat to benefit the world's poorest farming communities."
"It should be noted that SAGARPA and CIMMYT are working together in Mexico in the long-term program known as MasAgro-the Sustainable Modernization of Traditional Agriculture, which brings together these cutting-edge research and applied tools," said Lic. Enrique Martínez y Martínez.
With the support of public ministries like SAGARPA in Mexico and of committed private sector allies, CIMMYT is now at the vanguard of a renaissance in agricultural research.

About the International Maize and Wheat Improvement Center (CIMMYT in Spanish)
The International Maize and Wheat Improvement Center (CIMMYT in Spanish) is an agriculture research and training non-profit institute. It works to sustainably increase maize and wheat output yielding in small-scale farms as a means to diminishing poverty in developing countries.

CIMMYT shelters the biggest maize and wheat seed collection in the whole world, and it is internationally recognized as the place where the Green Revolution started up in an effort that saved millions of human lives in Asia during the 1960s. Because of that achievement, CIMMYT's investigator Dr. Norman Borlaug was awarded the Nobel Peace Award in 1970. Dr. Borlaug's dwarf wheat seed varieties helped to avoid famines in Southeast Asia.

CIMMYT is a member of the Consultative Group on International Agricultural Research (CGIAR) and is financially-supported by governments, foundations and development banks, among other public and private institutions.

Since 1966, CIMMYT's international headquarters are located in Texcoco, state of Mexico, and it has five experimental stations in four Mexican states, plus offices in 19 countries, Asian and African most of them. Its staff includes 180 scientists who are currently working on more than 150 research projects aimed to impact about thirty poor and agriculture-production-lagged countries.


Collaboration between Carlos Slim Foundation and Bill & Melinda Gates Foundation
In a joint effort, Carlos Slim Foundation and Bill & Melinda Gates Foundation have supported CIMMYT in building and modernizing its facilities and developing maize and wheat improvement research projects as well.

Carlos Slim Foundation allotted financial resources for building and modernizing Texcoco's headquarters specifically. Seven new buildings were added and seven more got reconstructed in a 32,900 square meters area. With these buildings, CIMMYT's facilities have grown by 86%.

The new facilities harbor 90 bioscience and biosecurity labs and high-tech greenhouses.

With them, CIMMYT will be able to lodge additional research projects which are currently performed abroad. These labs capacities will allow to developing complex research work requiring high-tech machinery and equipment. These projects will be performed in Texcoco's campus in a more efficient way at diminished costs, and Mexico will play an outstanding role in the region.

It is estimated that this investment will double CIMMYT's training activities since classroom, seminar/workshop and dwelling areas have been increased.

Mexico Will Lead Innovation in Agricultural Development for the World

Building on its success a half-century ago pioneering new varieties of wheat and maize that saved a billion people from starvation, Mexico is again at the forefront of advances in agricultural development to help poor countries become food self-sufficient.

Combining the latest breakthroughs in agricultural science and farming practices with digital technology, Mexico's innovative efforts will enable even the poorest farmers to grow and sell more crops.

Against the dramatic realities of climate change, a growing global population, rising food prices, and a shrinking agricultural land base, Mexico's leadership in agricultural innovation is critically important—especially to the countries of Sub-Saharan Africa where hundreds of millions of people face severe hunger and poverty.

At the center of these efforts is Centro Internacional de Mejoramiento de Maíz y Trigo (CIMMYT), where Mexican and international researchers have worked for decades to develop higher-yielding, more resilient seeds for maize and wheat, and to introduce better agricultural practices that help farmers be more productive. One of CIMMYT's greatest strength is its partnership approach. In addition to bringing together the world's leading scientists and agricultural experts, CIMMYT has also involved farmer associations, the private sector, governments, international organizations, and NGOs in developing effective solutions to meet the needs of poor farmers worldwide.

This week, CIMMYT will be celebrating the completion of new agricultural research and training facilities made possible through the financial support of Fundación Carlos Slim. These state-of-the-art labs and greenhouses will ensure CIMMYT's continued leadership developing high-yielding maize and wheat varieties equipped to tolerate the stresses of climate change. Expanded training facilities will enhance CIMMYT's ability to develop and deliver resource-conserving farming practices and advance digital technologies that enable poor farming families to increase their productivity and income.

Helping poor farming families increase production in a sustainable way, and sell more crops, is the most effective way to reduce hunger and poverty over the long term. This has been proven in Mexico, India, Pakistan, Brazil, China, and many other countries over the last half century.

The unique partnership between CIMMYT, the government, and our foundations ensures that Mexico will continue to lead in agricultural development—first in Mexico and then the rest of the world.

The new infrastructure funded through Fundación Carlos Slim will enable CIMMYT to carry out cutting-edge agricultural science using the latest digital innovations, and to accelerate the use of mobile technology to provide farmers everywhere with vital information about weather, prices, and new techniques to improve their productivity. The Mexican government's MasAgro initiative is helping farmers adopt more sustainable and profitable farming practices to increase food production. As these agricultural advances achieve scale in Mexico, the Gates Foundation will ensure that they reach maize and wheat farmers in Africa and South Asia, along with the resources needed to improve productivity.

Fifty years ago, Mexico's leadership in agricultural innovation helped lift hundreds of millions of people in Latin America and Asia from hunger and poverty. More recently the UN's Millennium Development Goals have reduced the number of people living in extreme poverty by half, since 1990.

The world is counting on Mexico to continue leading the way in agricultural research and sustainable farming practices to ensure global food security. Meanwhile, the global community must do its part by aligning around a new set of goals –including an agricultural productivity target – and achieving measurable outcomes that improve the lives of the world's poorest people.

Bill Gates
Bill & Melinda Gates Foundation
Carlos Slim Helú
Fundación Carlos Slim

The Gates Notes

Visiting Carlos Slim in Mexico
February 11, 2013 | By Bill Gates


Mexico, Carlos Slim, and Me
This week I'm excited to be in Mexico for a series of events with Carlos Slim, probably Mexico's best-known business leader, whom I've enjoyed getting to know for his business insights – but also because of some of the innovative approaches he's taking to philanthropy.
We've been invited by the International Maize and Wheat Improvement Center (known by its acronym in Spanish, CIMMYT) to help launch new facilities at its headquarters near Mexico City. With a staff of 1,100 in Mexico and 13 regional offices around the world, CIMMYT is helping reduce hunger and raise living standards in many poor countries through programs focused on increasing maize and wheat productivity. Our foundation has invested in CIMMYT, and Carlos Slim has been a big supporter.
Carlos is a very interesting guy. His father immigrated to Mexico from Lebanon. Carlos started several businesses when he was quite young and was already very successful by his mid-20s. His interests in construction, real estate and mining eventually branched out into many other businesses, including Mexico's largest telecommunications company. He reminds me a little of Warren Buffett in his ability to find undervalued investment opportunities. I've enjoyed the time I've spent with him, getting to hear his thoughts on business trends and the future of Latin America.
Among many other great projects, the Slim Foundation has funded the new CIMMYT facilities that we're helping open this week. Carlos' foundation and ours have collaborated before in helping launch the Salud Mesoamérica 2015 initiative to support health projects in Chiapas, Mexico and across Central America.
This week we'll get a chance to tour the new CIMMYT facilities including the gene bank, which holds the genetic diversity of 130,000 wheat and 28,000 maize varieties worldwide. This information is being uploaded onto databases that will be available to plant breeders everywhere. We'll also get into the field with farmers who've been helped by the MasAgro project, sponsored by the Mexican government to help strengthen food security through R&D, capacity building and technology transfer.
One reason why I always enjoy going to Mexico is because of the country's incredible progress, which has been really encouraging for me to get to see as I've spent time there over the years first for Microsoft and lately for our foundation. Despite the many challenges Mexico still faces, since 1995, the country has been able to cut its poverty rate from about 15% to less than 2% today. A major driver in reducing poverty has been agricultural development, especially innovations that have helped improve crop yields for smallholder farmers, whose lives have improved a lot as a result.
Part of what makes this week's visit particularly exciting for me is that the expansion of CIMMYT represents a very important and positive global trend: newly industrialized countries such as Mexico, China, India and Brazil are becoming leaders in efforts to help less developed countries. Mexico is in a great position to work closely with poor countries both because of its progress and because of its quite advanced technical capabilities in agricultural development. CIMMYT is a prime example of that.
Poor countries, donors and rapidly growing countries are increasingly working together in partnerships that I believe are a model for how to deploy the world's combined resources. These sorts of partnerships, combined with rigorous goal-setting and measurement, can produce enormous benefits for the poorest around the world.
http://www.thegatesnotes.com/GatesNotesV2/Topics/Development/Mexico-Carlos-Slim-and-Me
Reflections on My Trip to Mexico City
Last week I was in Mexico City, where I had the opportunity to spend two days with some of the best scientists in the world, and a good partner of ours, Carlos Slim. I'm always impressed by science. Usually I'm learning about how science in health is transforming lives, but this time it was the science and innovation in agricultural research that excited me. 

On my first day in Mexico, I learned about the work International Maize and Wheat Improvement Center (known by its acronym in Spanish, CIMMYT) is doing in conservation and precision agriculture. The lead scientist in the program Dr. Bram Govaerts, meets with farmers, extension and scientists at innovation hubs to test new crop management practices to improve the profits and natural resources of farm land. This was evident in the field where I was asked to water the plot under investigation and Carlos timed the difference in absorption between the land under conservation agriculture and the regular plot. We timed 22 seconds vs 5 seconds. The difference is staggering in the reduced water loss and productivity gains.

One of CIMMYT's exciting new programs, Seeds of Discovery, could also be one of the most innovative programs in genetic research, as it seeks to map out the millions of markers in maize and wheat varieties, to make it possible for plant breeders to find new and improved seeds for farmers all around the world. As Dr. Tom Lumpkin, the Director General of CIMMYT, explained to me, there is still much more work to be done to make this a reality and it will take even greater partnership and expertise in technology and communications to ensure this work reaches the fields and the farmers whose livelihoods depend on it. Dr. Lumpkin thinks it may be another five years before the sequencing of all the varieties is completed and transferred to plant breeders.   

It is partnership that brought me to Mexico in the first place. I had already been lucky enough to work with Carlos Slim a few years ago, when we partnered on the MesoAmerican Health Initiative to help reduce maternal and child mortality in Central America. This time Carlos wanted to invest his time and resources into agriculture, to benefit farmers and their families across Mexico and the world. As I listened during the site visit of the CIMMYT center on my second day in Mexico, and talked to more scientists and breeders based out in Texcoco, I knew that the partnership we were building here was more than just a financial one. Carlos' passion and expertise in communications could also help accelerate some of the work being done here, taking the knowledge gathered in the Gene Bank at CIMMYT and building faster, quicker methods of communicating and translating it to breeders. 

Carlos also talked about the role his organization could play in connecting farmer organizations and institutes to a coordinated network to ensure the extension systems created under MasAgro can reach and benefit as many farmers as possible acrossMexico. Carlos has asked us to share our learning and innovation from other parts of the world to help farmers in Mexico. One example is the exciting work of Digital Green in India, where video is used to help farmers share best crop-management practices as farmers trust knowledge and seed from fellow farmers – resulting in reduced extension costs and increased adoption of improved technologies and practices.

The Slim Foundation announced their funding of $25m to CIMMYT to a packed crowd of international media and delegates. Carlos, Dr. Lumpkin, and I, and representatives from the Mexican state and national government, cut the ribbon and officially opened the new world-class facilities that Carlos' funds created. In doing so, we opened the door for a new generation of scientists to explore and expand the innovation of agricultural research.
http://www.thegatesnotes.com/Topics/Development/Reflections-on-My-Trip-to-Mexico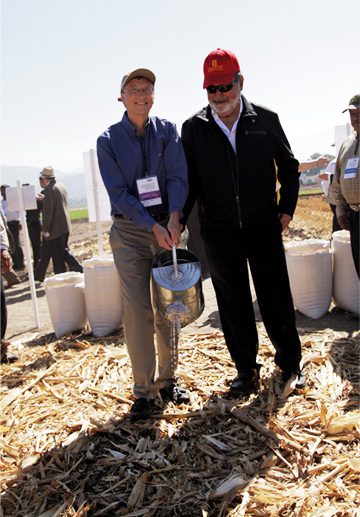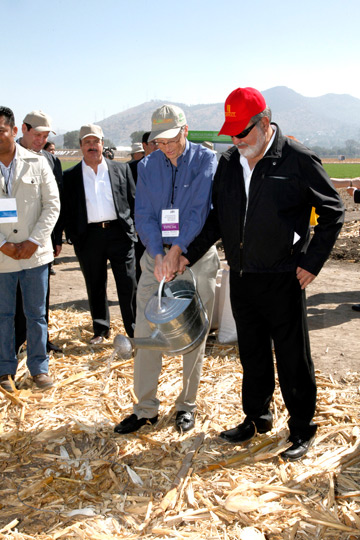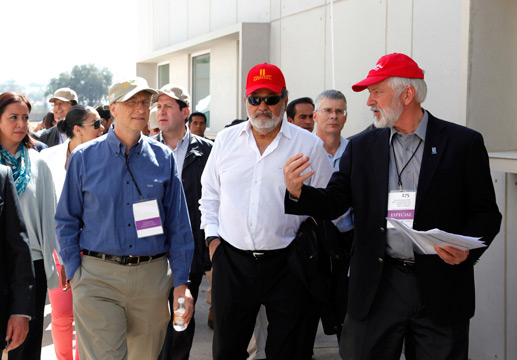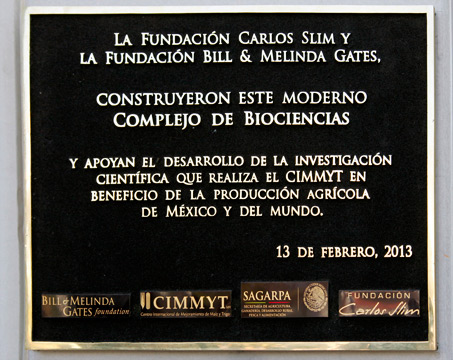 Official Site. Copyright © 2014.