Carlos Slim Foundation and Coursera seal an alliance to provide free on-line world-class graduate studies in Spanish to millions of individuals.
January 29, 2014. México City.
Carlos Slim Foundation and Coursera are convinced that knowledge is the way for a better future.

The alliance will provide free access to world-class graduate studies for millions of Spanish speaking individuals, allowing them to attain practical skills to widen their opportunities to find more and better jobs.
Coursera is the leading platform providing massive access to high quality on-line graduate studies.


Carlos Slim Foundation and Coursera, the leading platform providing massive access to high quality on-line graduate studies, have joined forces to widen and improve education and job opportunities throughout Latin America.

This strategic alliance results from a joint motivation to support learning in Latin America by means of job creation and better transformation opportunities for individuals to improve their lives and revenues. The partnership, publicly announced today by Carlos Slim Helú and Daphne Koller, co-founder of Coursera, will focus on three common objectives:
Improve access to high quality Spanish educational contents,


Create educational contents aimed at improving the possibilities for individuals to find a job,


Increase access to physical venues where students can personally attend Coursera training courses.
The initiative includes a major project to translate the best Coursera courses into Spanish. Approximately 50 courses will be translated before the end of 2014. Carlos Slim Foundation has already implemented the user interface in Spanish language.
Mr. Carlos Slim stated: "Our alliance with Coursera will provide state of the art training to human capital in Mexico, Latin America and the Hispanic communities of the United States". This educational initiative will also involve leading universities in Latin America that will identify and develop new courses in Spanish, tailor-made to respond to employment needs in the region. These courses will concentrate in high priority subjects, like computing sciences, professional training for teachers, medical care and public health. They will also aim to develop essential professional skills, like computing and leadership. Likewise, efforts will target the creation of new contents and the Spanish translation of the existing certificate program know as "Specialties", comprised of several courses and recently introduced by Coursera to help students acquire master skills in highly demanded subjects.
"We profoundly respect the vision and the impact of the Carlos Slim Foundation and we are very excited to participate in this alliance that will contribute to remove barriers that impede the access to high quality education for Spanish speaking students", stated Daphne Koller, Coursera's co-founder and co-chairwoman. "Our alliance will help students develop skills in critical areas with rapid growth rates in the Latin American job markets, thus benefitting their lives and their communities."
The Foundation and Coursera will also work together to open new opportunities for Latin American people to discover and access relevant contents. In order to achieve this, a network of Learning Centers will be created so as to provide students with a rich educational experience, combining on-line and off-line courses, thus generating greater retention of knowledge and improved learning results.
These Learning Centers will take advantage of existing TELMEX infrastructure with the support of Carlos Slim Foundation's programs for Digital Education and Culture. The programs operate Digital Libraries, fourteen of which are located in highly populated low-income areas. Moreover, the centers will have access to the Telmex Hub, a technological innovation pole located in Mexico City. In the near future, Telmex Digital Libraries will offer courses with important contents. This innovative service will involve 3,600 venues where students of all ages will be able to use, at no cost, computers with Internet access and over 400 information technology activities.
The partnership between the Carlos Slim Foundation and Coursera complements Telmex "Academica" initiative. It will reinforce this platform of universities offering a wide variety of graduate training in English and Spanish. The platform includes some of the world's top universities like the MIT, Stanford, Princeton, University of California, University of Chicago the Khan Academy and other 170 universities with state of the art training and archives in English.


About the Carlos Slim Foundation

Created in 1986 to provide high impact programs focused at the most vulnerable segments of society, the Carlos Slim Foundation has benefited over 36 million people. Based on a high sense of social responsibility, efficiency and opportunity, the Foundation supports initiatives in the following sectors: education, health, nutrition, social justice, culture, human development, natural disaster relief, economic development, environmental protection and conservation. Its programs contribute to improve the quality of life of persons in all age groups, fostering human capital development and providing opportunities for the integral growth of individuals and their communities.
www.carlosslim.com/responsabilidad.html#carso

About Coursera

Coursera strives to provide free education to millions of people around the world by means of on-line courses by the world's best universities and learning institutions. Coursera's platform combines educational principles with the mastering of the different topics by means of video lessons, interactive contents and a global peer community that offers a unique on-line experience for students. Coursera is financially supported by GSV Capital, International Finance Corporation, Kleiner Perkins Caufield & Byers, Laureate Education Inc., Learn Capital, New Enterprise Associates and Yuri Milner, as well as different universities including the California Institute of Technology and the University of Pennsylvania. Further information in www.coursera.org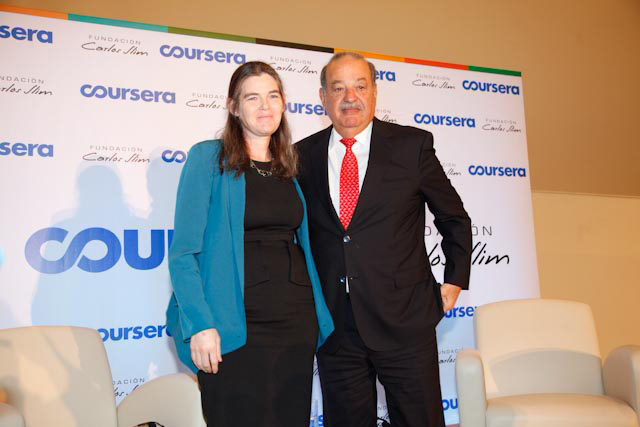 Official Site. Copyright © 2014.