Carlos Slim Foundation will donate $100 million to the Global Polio Eradication Initiative´s (GPEI), which with the Strategic Plan 2013-2018 has the objective to end this disease in the world.
April 24 and 25, 2013. Abu Dhabi, United Arab Emirates.
Carlos Slim Foundation to contribute $100 million to help Global Initiative End Polio Forever
Funds boost global donor support for final push toward polio eradication
April 25, 2013.- Carlos Slim announced today that his foundation will donate $100 million to help end polio.  His contribution will go towards funding the Global Polio Eradication Initiative's (GPEI) new Polio Eradication and Endgame Strategic Plan (2013-2018), a comprehensive six-year plan that was developed to capitalize on the unprecedented opportunity to eradicate polio.
"It has been more than 20 years since children and parents in Mexico and all of Latin America have worried about polio.  It is my hope that this donation will help improve the life of children and parents, no matter where they live, by fostering a polio-free world," said Slim.  "We are excited to join the Gates Foundation and other partners in the effort to end this disease once and for all.
Polio is a vaccine-preventable disease that can lead to paralysis or death.  Due to tremendous advances in 2012, today there are the fewest number of polio cases in the fewest countries ever, creating a unique opportunity to end the disease forever.  Today polio remains endemic in only three countries – Pakistan, Afghanistan, and Nigeria – down from 125 in 1988. In response to this opportunity, the GPEI developed a long-term strategy to achieve global eradication by 2018.
Slim's announcement was made at the Global Vaccine Summit held yesterday and today in Abu Dhabi.  The Summit, held during World Immunization Week (April 24-30), was organized to continue the momentum of the Decade of Vaccines – a vision and commitment to reach all people with the vaccines they need. Critical to this vision is polio eradication, along with the development of affordable new vaccines and the ability for every country in the world to deliver vaccines to every child.
Bill Gates, co-chair of the Bill & Melinda Gates Foundation and a co-host of the Summit, recognized Slim in opening remarks at the event, noting that Slim is an important new donor in the fight against polio.  Later, Gates announced his foundation's support to help fund the GPEI polio eradication plan over the next six years.
Global leaders joined Gates and Slim in announcing their support for the new GPEI polio eradication plan, which outlines all the steps needed to achieve eradication by 2018. Slim's and Gates' contributions supplemented a commitment by global leaders and other philanthropists to back the GPEI plan, with a total of $4B toward the plan's estimated $5.5B budget over six years
"We now have a comprehensive plan to end polio, but we need it to be fully funded to succeed. Carlos' generous commitment to support the GPEI plan is helping the world prove that setting ambitious goals leads to big victories, and inspires us to set and achieve more ambitious goals.  When we end polio, we'll be a big step closer to ensuring that we reach all children with the life-saving vaccines they need," said Bill Gates, co-chair of the Bill & Melinda Gates Foundation.
The six-year GPEI plan simultaneously addresses the need to interrupt transmission of the wild poliovirus by the end of 2014, strengthen routine immunization, and lay the groundwork for securing a lasting polio-free world. It is estimated that GPEI could deliver net benefits of US$40-50 billion by 2035.
The Slim Foundation's contribution further strengthens the relationship between the Carlos Slim Foundation and the Bill & Melinda Gates Foundation. Earlier this year, the two foundations partnered together to support the opening of the new facilities of the world's leading agricultural research center in Mexico. In 2010, both foundations also partnered on the Mesoamerican Health Initiative an effort to improve the health of the poor in Central America and Southern Mexico.

Carlos Slim Foundation

With strong social and high impact programs, focused on the most vulnerable populations, the Carlos Slim Foundation carries out since 1986 its work in the following areas: education, health, nutrition, social justice, culture, sports, human development, aid in natural disasters, economic development, protection and conservation of the environment, focused in Mexico and Latin America, contributing to improve the quality of life of people of all ages, promote the formation of human capital and generate opportunities that foster the integral development of the beneficiaries and their communities.
www.fundacioncarlosslim.org


Bill & Melinda Gates Foundation

Guided by the belief that every life has equal value, the Bill & Melinda Gates Foundation works to help all people lead healthy, productive lives. In developing countries, it focuses on improving people's health and giving them the chance to lift themselves out of hunger and extreme poverty. In the United States, it seeks to ensure that all people—especially those with the fewest resources—have access to the opportunities they need to succeed in school and life. Based in Seattle, Washington, the foundation is led by CEO Jeff Raikes and Co-chair William H. Gates Sr., under the direction of Bill and Melinda Gates and Warren Buffett.

Bill & Melinda Gates Foundation
Phone:+1.206.709.3400
Email: media@gatesfoundation.org


About GPEI

The Global Polio Eradication Initiative (GPEI), launched in 1988, is spearheaded by national governments, the World Health Organization (WHO), Rotary International, the US Centers for Disease Control and Prevention (CDC) and UNICEF, and supported by key partners including the Bill & Melinda Gates Foundation.

Since its launch, the incidence of polio has been reduced by more than 99 percent. In 1988, more than 350,000 children were paralyzed each year in more than 125 endemic countries. In 2012, only 223 new cases have been reported, and only three countries remain endemic: Nigeria, Pakistan and Afghanistan. For more information, please visit www.polioeradication.org

The GPEI Polio Eradication and Endgame Strategic Plan 2013-2018 is spearheaded by WHO, UNICEF, Rotary International and the U.S. Centers for Disease Control in broad consultation with countries, donors, vaccine manufacturers, regulatory agencies and national and international advisory bodies. Polio partner organizations, donors and endemic countries are actively working to secure the necessary funds to ensure money is not a barrier to the plan's success.

Wiping polio disease off the planet would be one of the great achievements of recent history
Letter. Bill & Melinda Gates Foundation and Carlos Slim Foundation.

Now that we are focused on helping others by dedicating more of our economic resources and time to fight poverty, mainly thru education and health, people often ask us how it's different from investing in business. In many respects, the principles are the same: We do our homework by understanding the challenges and finding the solutions, to make sure we're getting good value for our investments.


This principle explains why we are now partners in the fight to eradicate polio. There is an idealistic aspect to our partnership. We both agree that wiping this ancient disease off the planet would be one of the great achievements of recent history, and we are proud to be part of a long-term, world-wide effort to prevent suffering. The good news is that idealism in this case has nothing to do with wishful thinking. The case for polio eradication would satisfy any business-minded realist.


Since the world set the goal of eradicating polio in 1988, millions of health workers and volunteers have driven the number of cases down by more than 99 percent. Polio has been gone from the Americas since 1991. Currently, there are just three countries where the virus is still circulating: Afghanistan, Pakistan, and Nigeria, all countries where rough terrain and insecurity make the already challenging work of vaccinating 90 percent of children several times with the polio vaccine each uniquely difficult.


This history is both heartening and worrying. It's heartening because we know for a fact that victory is possible, because we've achieved success in many poor countries, remote areas, and conflict zones. It's worrying because people have a tendency to lose focus when victory is near, even though when it comes to polio the last mile is the hardest.


If the world doesn't seize the opportunity before us right now, the opportunity will pass. It will cost an estimated $5.5 billion over the next six years to achieve eradication. But if we don't finish, the number of cases will increase into the thousands, tens of thousands, or even hundreds of thousands, and we'll have to spend much more money trying to control polio and treat those who contract it. That is why the Gates Foundation has been investing and will continue to invest in this area significantly, and why the Carlos Slim Foundation recently announced a contribution of $100 million over six years.


We are confident these investments will pay off.

First, the organizations leading the fight against polio just completed a comprehensive six-year plan that lays out all the steps to get to eradication. We have never had a blueprint like this that uses all the available data to build a long-term strategy. At times, the program has responded to funding shortages by putting all its energy just into keeping the operation going for the next year. This plan marks the end of that approach. It also marks the first time the plan has included rigorous thinking about how to transition the infrastructure developed for polio into other areas of global health after eradication is completed. For example, the plan shows how staying the course on polio can improve routine immunizations systems in many countries.


Second, we are confident that the established goal for the Polio Eradication Initiative is reachable, particularly when there are so many innovative elements addressing the polio program's biggest needs. These have been developed by partners such as researchers developing better vaccines, and manufacturers working on cheaper vaccines. There are also improved surveillance techniques, including a highly sensitive one that looks for signs of polio in sewer waste. Vaccination teams are becoming more nimble and deploying resources more efficiently.  Our polio-fighting tools are worthy of the urgency of this moment in time.


The stakes over the next six years are clear.


On the one hand, we can fail—fail to raise the money needed to fund the plan, fail to generate the necessary political commitment, fail to get to zero. That means accepting that many thousands of children will be paralyzed each year by a disease we know we can prevent. It means we'll spend billions of dollars to deal with polio in perpetuity. And it means we'll have to consider the demoralizing idea that the world is incapable of following through on big promises.


On the other hand, we can step up now, when it counts. We can fund the plan, and implement it effectively in the key countries. If we do, we will save lives. We will contribute to progress in other areas of health and save even more lives. We will save money that can be applied to solve other big problems. And we will demonstrate that when people are committed, they have the intellect and the talent to combine their idealism and their realism into huge benefits for the world.


Our partnership to help end polio is a vote for that second, positive scenario.

Bill Gates
Bill & Melinda Gates Foundation
Carlos Slim Helú
Fundación Carlos Slim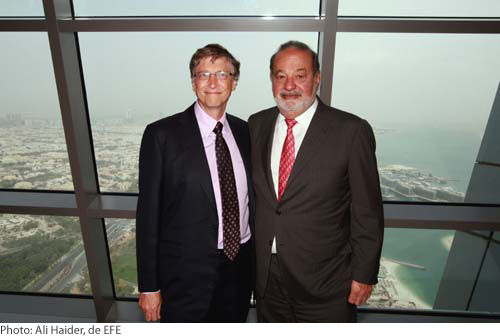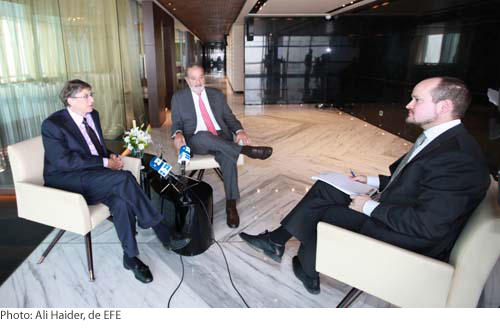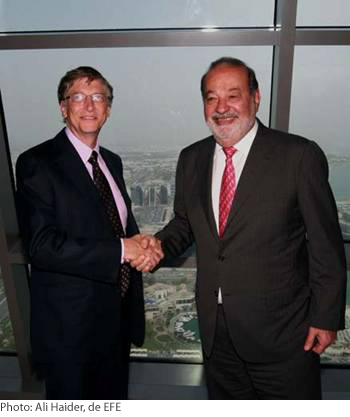 Official Site. Copyright © 2014