Mr. Carlos Slim, accompanied by Dr. Javier Duarte Ochoa, Governor of Veracruz and by Mrs. Petra Nemcova, President and Founder of the Happy Hearts Fund, inaugurated the "Juan Maldonado Pereda" elementary school, donated by Grupo Carso and equipped by Happy Hearts.
July 9, 2014. Nuevo Veracruz, Mexico.
As part of the Nuevo Veracruz project developed by Carso Real Estate, the new elementary school "Juan Maldonado Pereda" was inaugurated today.
In a modest ceremony, the Governor of the State of Veracruz, Dr. Javier Duarte Ochoa; Mr. Ramón Poo Gil, Mayor of Veracruz; Mrs. Petra Nemcova, President and Founder of the Happy Hearts Fund and Mr. Carlos Slim Helú jointly inaugurated the elementary school.  This was made possible thanks to a donation made by Grupo Carso and the Carlos Slim Foundation that covered the entire cost of the project, whilst the charitable organization Happy Hearts contributed with equipment.
The school was built over a surface of 2 thousand square kilometers providing students with a computer lab, personal computers as well as classrooms fully equipped with desks, chairs, blackboards and projectors.  Facilities include a children's playground and sports equipment, benefitting thousands of children residing in Veracruz.
During his speech, Mr. Carlos Slim, honorary and permanent Chairman of Grupo Carso, expressed his satisfaction with the opening of the school as a means to bring high quality education closer to a larger share of Mexico's infant population. Dr. Javier Duarte recognized the support of Grupo Carso for the benefit of Veracruz families.
The school is now part of the public infrastructure facilities located in the Nuevo Veracruz development, a project being built by Carso.  Last October, the "Juan Domingo Bureau" Fire Station was also completed over a 600 square meters surface. The station covers a wide area for service provision, including the Port of Veracruz metropolitan region, 30 residential neighborhoods and the Bruno Pagliai industrial zone.
It is worth noting that last December, Telmex and the Carlos Slim Foundation opened a Public Digital Library in the Nuevo Veracruz shopping mall.  The library is a unique venue for cultural and digital inclusion and has already benefited a large number of children, adolescents, adults and senior citizens. The library provides them support to find better job opportunities and improve their quality of life through educational, knowledge sharing and training activities, based in the use of technology.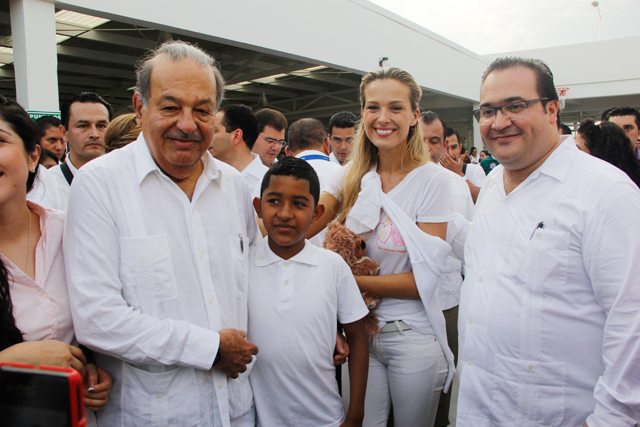 Official Site. Copyright © 2014