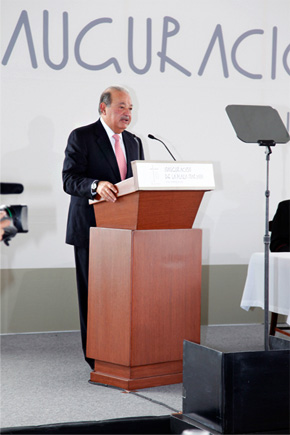 Carlos Slim Foundation
October 12, 2011, Mexico City
Carlos Slim Foundation donates Plaza Mariana to the Archdiocese of Mexico City and hands over a more-than-one-thousand-stands market place to Mexico City's authority.

The work was wholly paid by the foundation for the benefit of pilgrims and visitors, and it improves the Basilica de Guadalupe surroundings.


The complex's size is about 67,000 square meters, and it lodges more than 1,000 commercial stands, and a columbarium for more than 120,000 burial urns. Its total cost was more than 800 million pesos.
Mr. Carlos Slim handed over Plaza Mariana to the Archdiocese of Mexico City today. The donation triggers urban and pastoral infrastructure around Basilica de Guadalupe.

The inauguration act was attested by President Felipe Calderón Hinojosa and City Major Marcelo Ebrard Causabon. Plaza Mariana has 67,255 built square meters on a 29,534.27 square meters asymmetrical ground.

The complex's construction time was from June 2010 to October 2011, it was wholly paid by Carlos Slim Foundation, who fully donated it to the Archdiocese of Mexico City.

President Felipe Calderón congratulated Mr. Carlos Slim by such an important donation which will benefit more than 20 million annual visitors to Basilica de Guadalupe. "It's a very important work and a worth-praising gesture by Mr. Slim", he said.
City Major Marcelo Ebrard said: "Mr. Slim's participation has been decisive in building Plaza Mariana, besides carrying out the revival of Mexico City's Historic Center".

In the donation ceremony, Cardinal Norberto Rivera recalled that some months ago the original project had met a dead end, until Mr. Slim disinterestedly offered help, and Plaza Mariana is a reality today.

Mr. Carlos Slim asserted that this four-building complex revitalizes the Basilica de Guadalupe surroundings for the benefit of Mexico City, neighbors and visitors, and it provides better services and attention to pilgrims.

Plaza Mariana complex is arranged in three levels lodging the Evangelization Center, the Guadalupe Museum, more than 1,000 commercial stands, a Pilgrim Attention Center, dining rooms, bathrooms, parking lot, and the Crux Corridor, which is communicated to the Basilica Atrium.

The project was led by architect Fernando Romero. A crystal' crux distributes the four main buildings: the Evangelization Center, Guadalupe Museum, the Columbarium, and a market place for vendors who occupied surrounding streets before.

The complex has a plaza built upon the Columbarium which is also communicated to the Basilica Atrium, so forming a single structure with the Crux Corridor. The Crux is asymmetrical to the plaza, which is emblazoned by a stained-glass Virgen de Guadalupe image being made of vitroblock pieces. That image lights up the Columbarium by the day, and it projects a Guadalupe's luminous image by night. That image is framed by the crystal crux which it functions as skylight and light-screen as well. The structure is aimed to imitate Juan Pablo II's pontifical shield.
The Evangelical Center has two levels and it lodges an 858-persons capacity auditorium, open spaces to be used as many-use areas, classrooms, pastoral and administrative offices, and a parking lot.
The Columbarium was designed to lodge 120,441 burial urns in a two-level structure. At the center of that area the stained-glass Guadalupe image is located to light up the burial urns.
The market place is located at the intersection of 5 de Febrero and Iturbide streets, and its size is 13,054 square meter in a three-level arrangement. Its main access is on 5 de Febrero Street, and it has a walker secondary access, a car access, and a freight area on Iturbide Street. The market roof is saw form and has a light covering to allow natural light and ventilation. The inner levels are communicated by axial and lateral slopes.
The whole project's cost was more than 800 million pesos.
With this donation, Carlos Slim Foundation contributes to revitalize this important Mexico City northern zone for the benefit of the city itself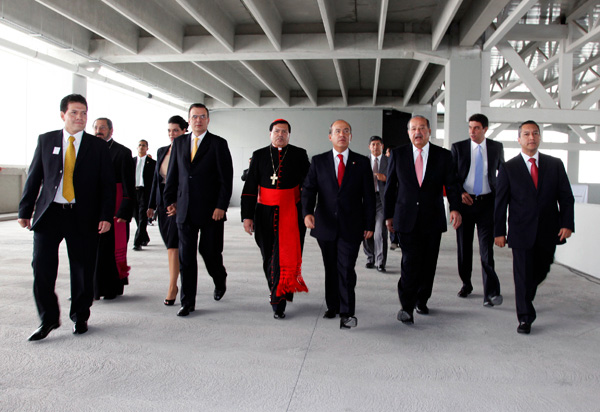 Official Site. Copyright © 2014