Carlos Slim Helú receives Humanitarian Award from Andrea Bocelli Foundation.
September 8, 2017. Rome, Italy.
Slim Helú receives the Humanitarian Award granted by the Andrea Bocelli Foundation.


In recognition of the Mexican businessman's philanthropic work and support for education.


During the Celebrity Fight Night ceremony held in the Roman Coliseum, the Andrea Bocelli Foundation presented its Humanitarian Award to Mr. Carlos Slim Helú, in recognition of his philanthropic work.

The Andrea Bocelli Foundation declared that this award was being granted in recognition of the solid and significant work carried out by Mr. Slim Helú in the field of education, and particularly of the hundreds of thousands of scholarships granted to outstanding Mexican youths, enabling them to study for university degrees and postgraduate studies.
Through his TELMEX TELCEL Foundation, more than 350,000 scholarships have been granted in Mexico for young people to attend higher education, and in addition to receiving economic support and computer equipment, these youths are granted permanent assistance in the form of courses, workshops, and events such as Mexico 21st Century, offering them experience to ensure comprehensive development in both human and professional terms.
One of the actions carried out by the Carlos Slim Foundation to support education, job training, and healthcare instruction is the Aprende.org platform, which is unique in the world, not only because of its unlimited content offered free of charge, but also because it can be accessed without cost through the TELCEL and TELMEX networks.
urthermore, 11.5 million students and teachers are currently benefiting from content of the Khan Academy offered in Spanish along with the Foundation, ranging from basic education to postgraduate studies.
For the Andrea Bocelli Foundation, this Humanitarian Award represents recognition of the philanthropic achievements and the lifelong work of Mr. Slim Helú.
The ceremony in which the foundation honored Mr. Slim Helú was attended by personalities such as Elton John, Sharon Stone, Sophia Loren, Susan Sarandon, Steven Tyler, violinist Anastasiya Petryshak, soprano Sumi Jo, Antonio Banderas, Michael Caine, David Foster, and Ray Liotta, among others.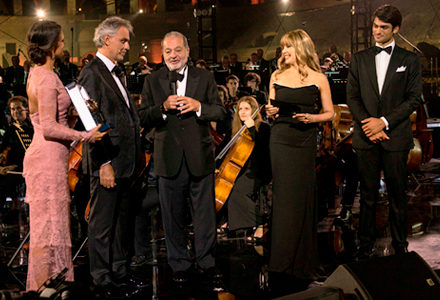 Official Site. Copyright © 2015.