Fifth anniversary of the WWF - Carlos Slim Foundation – SEMARNAT partnership supporting biodiversity conservation and sustainable development in Mexico.
October 2, 2013. Mexico City
Since 2008, the partnership has supported 56 projects for the conservation of natural resources, fostering the wellbeing of the populations who depend on them
47 civil society organizations, communities and academic institutions in Mexico participate in this national effort to promote sustainable development in 6 regions and 18 priority zones
On November 4th, 2008, WWF and the Carlos Slim Foundation established a partnership to invest, in a first phase, US $100 million dollars for the conservation of natural resources in Mexico.  Joining forces with Mexico's federal government, on June 4th, 2009 the WWF and Carlos Slim Foundation alliance signed a partnership with the federal Secretariat for the Environment and Natural Resources (SEMARNAT).  Between 2008 and 2013, the alliance, along with its numerous partners -47 civil society organizations, local communities, national and international foundations- has supported 56 projects covering a wide array of issues including community programs, formulation of public policies to preserve biodiversity and sustainable development in Mexico.
The strategic axes of the initiative include biodiversity conservation activities, local investments, water management, adaptation to climate change, public policy harmonization, empowerment of civil society, education, social marketing and financial innovation.
"This initiative contributes to strengthen the outstanding efforts led by renowned environmental leaders, scientists, several organizations, state governments and Mexico's federal government via SEMARNAT. The program offers an innovative financial platform to multiply the funds provided by the different partners", stated Carlos Slim, President of the Carlos Slim Foundation.  He further added, "the initiative has accomplished important achievements in the protection and sustainable management of over 300 thousand hectares of jungles, forests and deserts, by local communities.  I has also helped reinforce the inspection and surveillance of 1 million hectares of priority ecosystems in 43 protected natural areas under federal jurisdiction; it has helped to drastically reduce illegal deforestation in the central area of the Monarch Butterfly Reserve; it has supported the capacity of 604 brigade members preventing wild fires; promoted sustainable fishing and provided training for 417 fishermen."
Furthermore, Mr. Slim underlined that the Alliance has involved 50 thousand students and teachers in environmental education; it has reinforced the capacity of 5 thousand common landowners, producers, professionals and local inhabitants, creating jobs.  Today, 220 Mexican experts contribute to these efforts.
Among other achievements, one should note the preparation of three state plans for climate action and the implementation of particular measures to adapt to climate change in 6 of the 18 priority zones defined by the Alliance.  Likewise, the initiative has supported the monitoring and conservation of 24 species (1 butterfly, 2 birds, 9 land mammals, 4 marine mammals, 2 types of shark and 6 marine turtles).  In Cuatrociénegas, one of the priority zones supported by the Alliance, the project is being carried out in partnership with scientists from the National Autonomous University of Mexico (UNAM), who work directly with local communities, particular children, so as to guarantee the conservation of the area's system of pools and its biodiversity, unique in the world.
Omar Vidal, General Director of the World Wildlife Fund (WWF) in Mexico stated, "created in 2008, the Alliance contributes to foster the efforts of local organizations and communities who want to revert environmental degradation trends in 6 regions and 18 priority areas around Mexico and the world:  Chihuahua's desert, Sea of Cortes, Meso-American coral reef, Oaxaca, Chiapas and the Monarch butterfly biosphere reserve".
Mr. Vidal further commented "to preserve Mexican natural resources is a challenge for us all.  In a country where almost half of the population lives in conditions of poverty, these challenges are not only environmental but economic and social".  Our initiative has developed a model partnership that enables the participation of communities, authorities, the private sector and civil society.  If we can join forces to transform environmental protection into social well-being, we would have advanced towards our proposed goals".
An outstanding example of our activities takes place in the Chihuahua's desert where 150 cattle breeders have been trained with best practices on meadow conservation. This has benefited 72 thousand hectares and supported actions to raise awareness in 3 thousand children and teachers in elementary schools in Cuatrociénegas about the importance of conserving their natural pools, particularly the El Churince pool.
In the Mesoamerican coral reef our Alliance aims to mitigate the loss of coastal habitats due to changes in land use.  The program has created 70 firefighter brigades; supported the Orquídeas de Sian Ka'an cooperative composed of 35 women that have been trained as ecotourism guides. It has also established a 5-year ban on the exploitation of pink snail so as to replenish its population.
In Oaxaca, efforts have aimed at developing the capacities of the Zoque communities in sustainable production of resin. Support has also fostered the production and exportation of certified wood furniture in the Sierra Norte by community owned timber companies, like Integradora Comunitaria Forestal de Oaxaca.
In Chiapas, the Alliance has helped to develop a regional model for the management and conservation of natural resources, benefiting local populations that inhabit the Lacandon jungle, including promotion to community-managed ecotouristic companies.  Likewise, support has been provided to 710 coffee producers belonging to the Society of Organic Producers, thus significantly increasing the production of organic coffee and its commercialization in the international markets.

Twenty-one projects have been implemented in the Sea of Cortes, with a taskforce of over 50 experts engaged in research and conservation of 15 endangered marine species.  Training has been offered to 90 tourist service-providers, who have shared best practices in whale and whale shark watching, as well as to over 200 fishermen engaged in sustainable fishing activities.
In the Monarch butterfly reserve, the Alliance has supported forest restoration activities through the creation of a network of 10 community hatcheries, creating 200 permanent jobs.  Two resin storage centers have been established, benefiting 220 members of El Capulín community, the indigenous groups living the San Juan Xoconusco settlement as well as 1,320 persons benefited indirectly.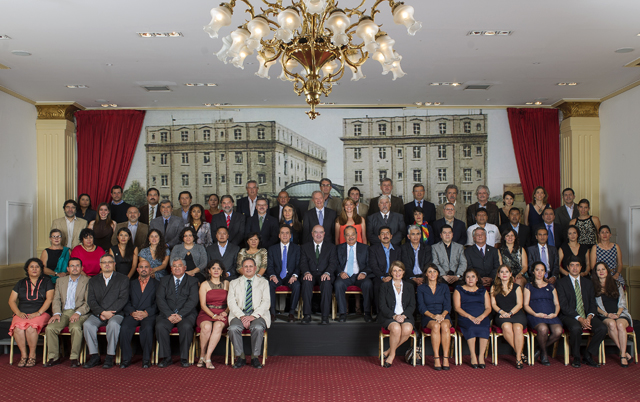 Official Site. Copyright © 2014