Mr. Carlos Slim keynote address in Business Summit Mexico, 2010 (October 24-26, Toluca, State of Mexico). This 8th edition was titled "Take-off Time: Actions for Change".
 Toluca, State of Mexico, October 24, 2010.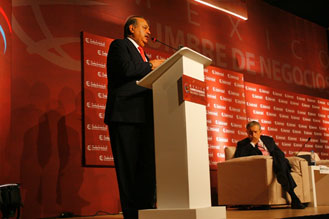 Question: I have a doubt: if, as a result of an established public policy, young's first job occurs at 22 years old, how the existing gap could be filled? Nowadays there are a lot of younger people in the labor market but the economy is not creating the jobs being demanded. ¿What are the options for postponing young people entering to the labor market? 
 
Carlos Slim Helú: 22 or 23 years old people looking for their first post in the labor market are graduated usually, and they look for full-time jobs. Certainly, part-time job for students are commendable, especially those related to their own careers. But full-time jobs are for graduates, and 22-23 years old are the proper age for it. Of course, not all of the students will become graduates, most of them are not nowadays, and many will not in the foreseeable future.
 
When entering to the labor market, young people age differs; some start at 18 or younger even. I think that an economic aid system will be needed for them when studying. That's the only way to guarantee that poor families young are properly educated.
 
Public education for that social segment is needed. 32% of UNAM students come from families earning no more than four minimum wages for income, so they are unable to satisfy some basic needs, including food. This serious problem must be solved.
 
Middle-level and technical-training students need support also. So, the gap between school and work should be filled by a mix of part-time jobs and economic support, otherwise they hardly will conclude elementary school. What we need is human capital.
 
Question: How the private sector could get involved in this endeavor, how to convince them that education spending is not waste but real investment? 
 
Carlos Slim Helú: This problem is a little bit complex. By instance, current education spending is bulky, so we need to approach quality, moving forward from literacy, to say, to digital culture. Education should be radically and structurally transformed to transit to modern technology, the proper environment for quality education.
 
The private sector is aware of the importance of this. Certainly, there are some private universities that were religious before. Unfortunately, some of them have been bought by international firms conceiving education as a business, not as philanthropy or as a supporting mean.
 
In respect to private schools and hospitals in need, you can frame schemes to overhauling them. By instance, we have bought buildings and equipment without a corporate interest, just a financial one, in order to allow institutions to be operated by interested people.
 
Let me go back to education and technology. We should develop many educational applications and create educational networks to connect all of the teachers. In fact, this process is evolving smoothly and fast like the mobile phone did it. Mobile phone penetration in Latin America is about 95% nowadays; some users, including kids, have two or three phones. Smart phone and broadband penetration will follow the same route. Technology is available now.
 
Developing educational applications will be not only important; it will be profitable and very interesting. Thousand young people could be enrolled into universities and develop their careers by electronic means in the same way millions young people communicate themselves through social networks.
 
Science and technology are global. We need to focus innovation on education. Innovation, innovation, innovation…
 
There are many rich universities making big science with excellence staff, including Nobel laureate. They are earning a lot of money. What we need is to absorb their scientific and technological development.
 
I think that our government should deeply involve the private sector into education. Likewise, the private sector should be more aware about the importance of education not only for our country's future, but as a profitable business.
 
Question: You have stressed the importance of human capital. However, we need to create one million job posts each year. What is you suggestion to immediately create them? I am not ignoring human capital and educational needs, yet the social problem we have today has translated itself into insecurity, lack of jobs and political laggard.                    
 
Carlos Slim Helú: Employment is a fundamental problem, and I have mentioned it in many meetings. I have remarked in here the unemployed young graduate problem. What we have to see at are employment sources.
 
In talking about employment we have to talk about employers. Who they are? They are businessmen, mainly. Who of them do create most jobs? They are micro, small and medium-size businessmen. Indeed, employment is there; we have to identify their obstacles.
 
As I have said, we have lessened child mortality. Likewise, we have to lessening small and medium-size firm mortality, so to speak, by smoothing their path to growth. If they are burdened by 100 regulatory rules, removing 30 rules will not alleviate them. To get started, certain kinds of business should have any regulation apart from notifying their setting down to the authority in order to register them as tax payers.
 
Small and medium-size businesses face two problems: excessive regulation and financial capital scarcity. Three or four years ago we started a small and medium-size firm financial program. Nowadays it gives support to about 30,000 firms, one thousand firms a month at a pace.
 
When I talk about innovation I encompass low-operative cost, expedite credit-assessing and operatively functional small and medium-size firm financial systems.
 
Another important employment source is house building. Infonavit's programs are very good; they, however, have become sluggish. In respect to infrastructure building, which creates many jobs, I think we could do more. The State of Mexico and Mexico City count for the entities building more infrastructures, and this is very important. I say it without flattering State of Mexico's governor, here present.
 
Another important employment source is infrastructure maintenance. To build a building you should have a project, a ground and a financial capital. Additionally you have to paint it, outfitting their insides and windows, installing plumbing and electricity, building access ways and planting gardens.
 
Think about archeology as an employment source. How many archeological sites Mexico have? They are countless. We could create a lot of jobs by investing in archeological research and maintenance.
 
The point that I want to make is to look for the promising job-creating areas. By instance, we have to make a biggest effort in information technologies.
Official Site. Copyright © 2014.