UN Broadband Commission advances action towards broadband digital connectivity for all. The Commission is chaired by President Paul Kagame of Rwanda and Mexico's Carlos Slim Helú.
May 6-7, 2018. Kigali, Rwanda.

The Broadband Commission for Sustainable Development at its 2018 Spring Meeting in Kigali, Rwanda 6-7 May, committed to concrete actions that will advance the roll-out of broadband around the world – and with it, much-needed digital connectivity, which is necessary for the achievement of the United Nations Sustainable Development Goals (SDGs).
The Commission is chaired by President Paul Kagame of Rwanda and Mexico's Carlos Slim Helú. In September 2015 it was re-named the Broadband Commission for Sustainable Development with the specific purpose of working to help achieve, through the power of broadband connectivity, the Sustainable Development Goals.
On Sunday, 6 May, Commissioners took part in onsite sessions of four Broadband Commission Working Groups -- Vulnerable Countries, Epidemic Preparedness, Digital Entrepreneurship and Digital Health. This was followed on Monday, 7 May, with the full-day annual Spring Meeting of the Commission.
This year's meeting took place on the eve of the , being held 7-10 May, enabling the Commission to make available to Summit participants, its valuable expertise.
Comprised of leaders from government, industry, international organizations and academia, the Broadband Commission was established in 2010 as a top-level advocacy body promoting broadband as an accelerator of global development.
Co-Chair of the Broadband Commission and host, H.E. President Paul Kagame said: "Africa's economic transformation requires broadband infrastructure with an emphasis on both access and affordability. The reality is that all other digital services whether in commerce or education or healthcare run on top of broadband. Africa's size, geography and settlement patterns mean that we must rely on a variety of different technologies to deliver broadband including satellite, fibre optic and mobile. It is up to us to lead the way in driving innovation both in policy and business models in order to speed up the provision of broadband where it has been slowest to reach".
Co-Chair of the Broadband Commission Mr. Carlos Slim stated: "We need to move as fast as the technology is doing. We are looking at how our civilization is changing at very high speed, we have to be aware of these changes and try to anticipate what broadband can do and the applications for society. And while I am very glad we are moving ahead".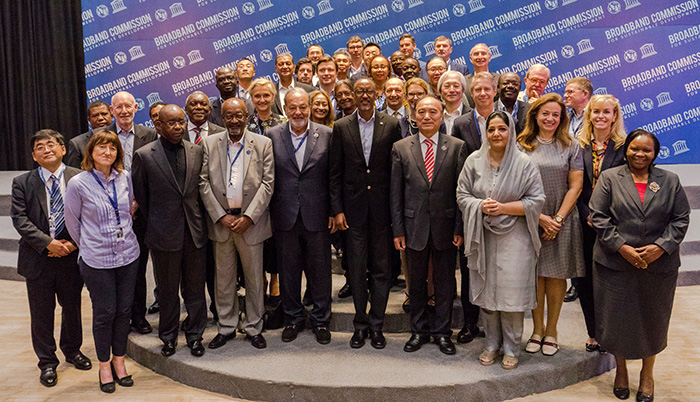 Official Site. Copyright © 2015